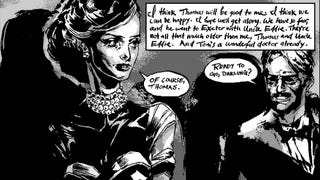 Poor Martha Wayne. While there are plenty of comics about what Bruce Wayne's dad got up to before he was killed, from being a part of a secret society to performing surgery on a mob boss at gunpoint, there's relatively few comics written about Batman's mom.
Artist Ming Doyle, though, has imagined what a young Martha Wayne thought about her upcoming life as a wife, mother, and socialite. It's a great character portrait - and apparently the first thing Doyle did after she left school. In the link there's also interesting commentary from the artist, looking back on her earlier work.
Via Ming Doyle's Site.