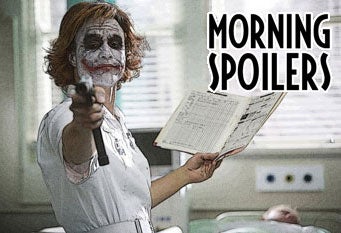 Morning Spoilers
If there's news about upcoming movies and television you're not supposed to know, you'll find it in here.
The Avengers will assemble soon. Disney considers converting John Carter of Mars to 3-D, while the ruling King of 3-D, James Cameron, continues to mull the Avatar sequels. Awesome comic actors are headed to Syfy's biggest shows. To the spoilers!

The Avengers:
Joss Whedon and company will reportedly start shooting in February. [Superhero Hype]
Avatar 2 and 3:
James Cameron says he'll most likely be shooting both sequels back-to-back, although they haven't made a decision yet. I think this may have been mentioned before (or maybe just because it's become standard operating procedure for sequels), but at least this time Cameron gives a clear reason for it:
"That is something that makes a lot of sense, given the nature of these productions, because we can bank all the [motion] capture and then go back and do cameras over a period of time."
Transformers 3:
You all know the drill by now. New set photos, new set videos, here they are, see you again on the other side: [Pixel Rally via Transformers Live]


John Carter of Mars:
Disney is reportedly asking director Andrew Stanton to convert the movie to 3D. Stanton is supposedly reluctant, and so they're testing a few scenes in an effort to convince him that it can be converted to an acceptable quality. [Slashfilm]
Mad Max - Fury Road:
Riley Keough, who's probably best known for being Elvis Presley's granddaughter, is reportedly in talks to play one of "The Five Wives", a group of women Max has to protect from the usual assortment of leather-loving, post-apocalyptic creeps. Zoe Kravitz, Teresa Palmer and Adelaide Clemens have already signed on to play three of the other wives.[Heat Vision]
Monsters:
Here's a cool new poster for the latest movie about humans and aliens trying (and mostly failing) to coexist on Earth: [ShockTillYouDrop]

Fringe:
The show is currently casting two guest stars for episode 4:
[PATRICIA VAN HORN] Caucasian. 55-65. Patricia is a senator's wife. She grieves over the horrible and peculiar death of her husband. Guest Star.

[RAY] 35-45. Ray is a NYPD family man with a secret. Open to all races and ethnicities. Guest Star.
There are a ton of new set photos: [Skot Nelson's Flickr & The Vancouver Sun]

Chuck:
General Beckman, played by Bonita Friedericy, has reportedly been promoted to a regular cast member, meaning she'll appear more often on the show and have more to do. As the executive producers note, we'll even see her actually walk around in the season premiere. [The Ausiello Files]
Vik Sahay explains what'll be up with Jeff and Lester as the new season begins. "They're on the lam, getting a taste of freedom… and fear... Who knows what that kind of new feral quality that will bring if and when we reunite with the gang?" Asked whether Jeffster is on some sort of "excellent adventure," Sahay responds, "I don't know about excellent... More like torturous, weird, awkward and off-putting." [Fancast]
Here's the first season four promo, which includes a first glimpse of Linda Hamilton as Chuck's mom: [SpoilerTV]
Supernatural:
Here are some set photos: [SpoilerTV]

Warehouse 13:
The show has reportedly signed Taxi star Judd Hirsch to play Artie's estranged father in the upcoming standalone holiday-themed episode that will air at the end of the year. Paul Blackthorne, best known from The Gates, will also reportedly appear as a workaholic who runs into a Santa-themed thief. [The Ausiello Files]
Eureka:
Dr. Spaceman himself, Chris Parnell, will reported appear in Eureka's holiday episode. After last week's Warehouse 13 antics, is it too much to hope for an actual 30 Rock crossover? He will be playing the latest bumbling scientist whose experiment gets out of control, so... maybe. [The Ausiello Files]
Stargate Universe:
The thirteenth episode of season two is titled "Alliances." [SpoilerTV]
Haven:
Here's another promo for the next episode, "Fur": [SpoilerTV] Click to view

V:
Reaper star Bret Harrison will reportedly play a recurring role on the show as Dr. Sidney Miller, an evolutionary biologist who Erica seeks out for answers about the red skies. [The Ausiello Files]
Smallville:
The fifth, sixth, and seventh episodes of the season will be called "Isis", "Harvest", and "Ambush", respectively. [SpoilerTV]
The 200th episode won't just feature the return of James Marsters as Brainiac. It will also explore Clark's past, present, and future, and it all leads up to a big event in the final few minutes. Also, yes, Brainiac will be back, but according to executive producer Kelly Souders, he's back "with a twist." [Fancast]
Additional reporting by Mary Ratliff.