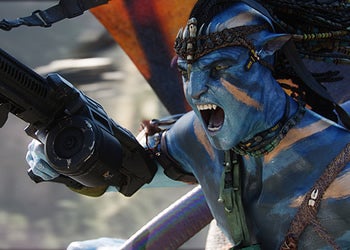 The competition (including singing chipmunks and the world's greatest detective) was tough, but Avatar still came out on top of this weekend's box office. All the more impressive, considering it was the biggest weekend haul in US cinema history.
Despite early concerns that Alvin And The Chipmunks: The Squeakquel would topple James Cameron's crown this weekend based on advance ticket sales, the second week of release for Avatar bodes incredibly well for the long-term prospects for the movie; it brought in an estimated $75 million, a staggeringly low drop-off when compared with its opening $77 million.
More impressively, Avatar's success comes despite the second most-successful film of the weekend, Sherlock Holmes breaking the record for the most successful Christmas opening of all time (Its estimated $65.4 million easily beating previous holder Meet The Fockers' $46.2 million), and amid the most successful weekend domestic box office gross of all time; this weekend, American cinemas took an estimated $285 million, up from July last year, when the opening of The Dark Knight led American theaters to a $260 million best. With these kinds of numbers, it's no surprise that box office records for IMAX were broken this weekend thanks to Avatar (Earning $12.1 million globally), or that the movie is #1 in all but one of its 108 countries of release right now (India is the only hold-out, but even there, it's #2). If this keeps up, then we may have discovered a film that'll topple Titanic off the most successful movie of all time title after all...