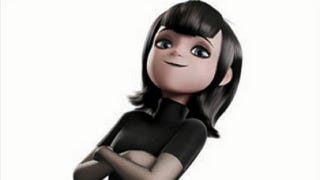 Trailer Frenzy
A special place to find the newest trailers for movies and TV shows you're craving.
We were not impressed with the first trailer for Adam Sandler's gag-laden Hotel Transylvania. However, the next trailer looks quite a bit better.
Mostly, that's because the focus has shifted to Dracula's adorable little Goth vampire daughter, Mavis. Who just happens to look and dress like most of us in Jr. High. Hopefully the rest of the flick will be centered on Mavis holed up in the attic, writing angry scribbles into her diary and drinking the contents of the wine cellar, that she ingeniously hid in a Gatorade bottle. Or it will be about a hotel for monsters. Fingers crossed for angry teen wino! Watch the new trailer and decide for yourself.
Here's the official run-down:
Welcome to the Hotel Transylvania, Dracula's lavish five-stake resort, where monsters and their families can live it up, free from meddling from the human world. But here's a little known fact about Dracula: he is not only the Prince of Darkness; he is also a dad. Over-protective of his teenage daughter, Mavis, Dracula fabricates tales of elaborate dangers to dissuade her adventurous spirit. As a haven for Mavis, he opens the Hotel Transylvania, where his daughter and some of the world's most famous monsters – Frankenstein and his bride, the Mummy, the Invisible Man, a family of werewolves, and more – can kick back in safety and peace. For Drac, catering to all of these legendary monsters is no problem – but his world could come crashing down when one ordinary guy stumbles on the hotel and takes a shine to Mavis.