Leigh Brackett was known as the Queen of Space Opera long before she co-wrote The Empire Strikes Back. And now, you can find out why. Haffner Press has collected all of the novels and stories she wrote about space adventurer Eric John Stark into one amazing volume.
Featuring cover art from Raymond Swanland (see roughs of the various cover ideas above, via Haffner Press), The Book of Stark collects three Stark novels, and four short stories. Here's the table of contents:
"Queen of the Martian Catacombs"
"Enchantress of Venus"
"Black Amazon of Mars"
"Stark and the Star Kings"
The Ginger Star
The Hounds of Skaith
The Reavers of Skaith
Plus there's a slipcased deluxe edition, with different cover art, that includes a bonus book. And the bonus book has the two books that Brackett wrote when she expanded and adapted two Stark short stories into novel form. The slipcover edition also includes Brackett's never-before-published working notes for a fourth Stark novel. Here's what's in that bonus book:
The Secret of Sinharat
The People of the Talisman
The Ginger Star (magazine version)
The slipcased edition sounds like a pretty amazing collection, with every single scrap of Stark all in one place. Get it from Haffner Press. [via SF Signal]
---
Charlie Jane Anders is the author of All The Birds in the Sky, which is available now. Here's what people have been saying about it. Follow her on Twitter, and email her.
G/O Media may get a commission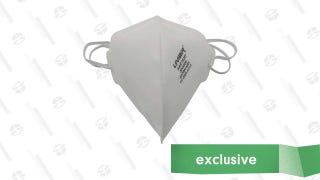 NIOSH CDC-Certified N95 Masks (10-Pack)