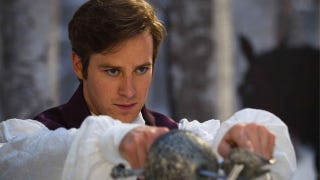 Now that Christian Bale has vacated the cape and cowl, everybody's wondering who will be the next live-action Batman. And once again, rumors are pointing to The Lone Ranger's Armie Hammer as playing Bruce Wayne... but only in the Justice League movie.
This isn't the first time Hammer's been tied to the role. Back in 2008, Hammer was actually cast as Batman for the first ill-fated Justice League picture. George Miller was signed up to direct, and the cast spent their days in Australia working out and training to get ready for the big shoot. But the odds were stacked against the picture due to the writer's strike and other factors, and eventually the project died.
Now Moviehole is reporting that the studio is once again sniffing around Hammer for the role of Batman for the new Justice League picture. But it's possible a different actor could play Bats in any solo films. Are you ready to see the Winklevoss twins wear the Batsuit?