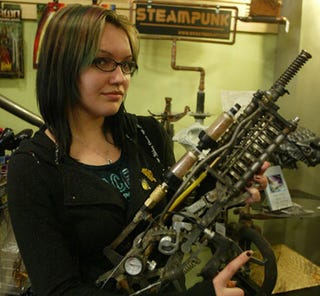 Steampunk is taking over Arizona! First Mesa, AZ clothing store Evermore Nevermore hosted a "Steampunk Spectacular" over the weekend (including this steampunk rifle) and now Scottsdale, AZ has a steampunk art show including sculptor Eddie Schenck, who makes steampunk pole-dancers.
Evermore Nevermore's "Steampunk Spectacular" featured art and gas-mask-wearing sailor girls, and you can read more about it here. (Top image by Tim Hacker.)
Scottsdale's "Steampunk Art Show" is happening at the Artspace on Sixth until the end of the month. It features several artists, including "green" sculptor Eddie Schenck, who created a robot pole-dancer out of recycled cash-register parts. Check out some of his work below.