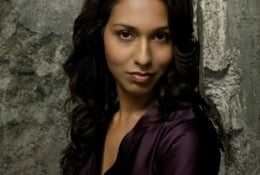 She's been to Hell - Oh, alright, Earth - and back, and even shot depressed mothers out of airlocks on SciFi Channel's Battlestar Galactica. But according to Rekha Sharma, AKA Tory, the most mind-bending thing she's ever experienced was a fan convention.
Talking to the LA Times' Showtracker blog, Sharma explained the "mind-boggling" experience she had at this year's New York Comic-Con:
I had done one convention before that, which was in London. It was to a really small group of people and none of my stuff had really aired yet — the crowd just knew about the end of the third season — so people were pretty chill around me. They were like, 'Wow, you're cool.' But this time I got so many strong reactions from people... found in a way that the energy was really contagious. I felt that there was a lot of real positivity in the room. Everybody just loves the show and so it was really fun and exciting in that way. But then there's the weirdness of people sort of freaking out over you and you're like 'Hey, I'm just a chick,' you know?
Apparently, she likes the attention; she later admits considering going to San Diego Comic-Con next week:
I'm curious — I've heard how insane it is ... It was pretty cool going down on the floor and seeing all of the booths where people were [at the New York convention]. Well, first of all there's this show, and then there's all of the creativity that has sort of spawned off of the show. I guess I never really thought of it before quite in that way. I've always thought of all the dolls and paraphernalia as sort of like, 'Oh that's the marketing and that's exploitation of something that's happening.'

But this time, because I could see that there were people attached to those creative ideas, I actually had a newfound respect for that kind of thing. I was like 'Hey, you love the show and then you got inspired to then design these action figures.' And that's kind of cool.
Professional action figure designers? I think that's your cue to feel slightly patronized.
'Battlestar Galactica': Chat with Rekha (Tory) [Showtracker]