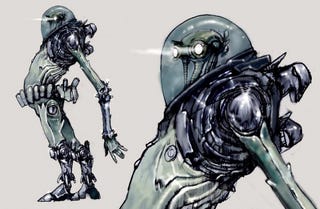 Meet S.A.M., a subaquatic mech who only looks swaybacked when he's trying to carry his modded bulk around on land. S.A.M. is one of many character creations by Daniel Baker, a concept artist at Blitz games in the UK. Check out some of his strange sea-going ships and military bots below.

Though I wish they were in sharp focus, I understand why Baker chose to shroud these rock-formation boats in misty haze. They look like the kinds of vessels that faeries would ride around in. At the same time, they also look like the perfect camouflage for bots like S.A.M., riding out to sea on an underwater mission.
Also I love these silhouettes of bot soldiers. Something about the stark black-and-white makes them more menacing and evocative.
See more of Baker's work in the forums on Concept Art.