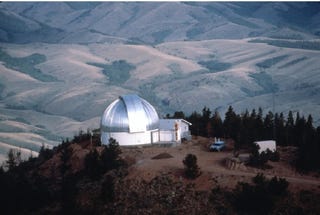 Great news: the Launch Pad Astronomy Workshop has found a new funding source, the National Science Foundation, and is open to applications through March 31.
Any established science fiction writer can go study in beautiful Laramie, WY, essentially for free from July 10 through 17. This time around, the workshop, will feature regular instructors Mike Brotherton and Jim D. Verly, along with physicist and long-time Analog Science Fiction and Fact editor Stanley Schmidt.
The Launch Pad Astronomy Workshop aims to provide a "'crash course' for 10-12 attendees in modern astronomy through lecture, hands-on activities, discussion, and observation through the University of Wyoming's telescopes." You can apply here.
Top image: University of Wyoming 2.3-meter Telescope (WIRO)
[Mike Brotherton via SF Scope]