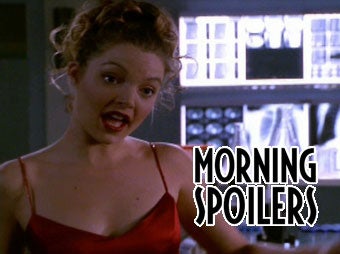 Morning Spoilers
If there's news about upcoming movies and television you're not supposed to know, you'll find it in here.
Battleship and Journey of the Center of the Earth 2 are adding some major class. Watch the most horrific clip yet from Resident Evil Afterlife. The look of Captain America villain Red Skull is totally terrifying.

Spider-Man Reboot:
A Toronto Globe feature on actress Hillary Duff mentions she has a script marked "Spider-Man" sitting on her coffee table, with lines for a character called "girl" highlighted. "Girl" might be the incredibly subtle codename for the movie's mysterious non-Mary-Jane love interest...or it could just be a random female character. Still, this means it's at least theoretically possible Duff is under some consideration for the role, however slight. [CinemaBlend]
Captain America:
Marvel Studios executive Kevin Feige explains they chose to shoot the movie in Europe - causing Manchester and Liverpool to double for 1940s New York City - because that's where the majority of the movie takes place anyway, once the action shifts to World War II. He also discussed the look of the Red Skull, as played by Hugo Weaving:
Hugo Weaving has been in the Red Skull effect, in costume for a couple of weeks now and it's a hell of a lot of fun. We gave people a little taste in San Diego about what his character will look like but now that we've started to work with the actual skull it's going to be a lot of fun and a rather frightening villain.
Alien Prequel:
It turns out that Gemma Arterton is not meeting with Ridley Scott to discuss a role in the movie, at least not according to her publicist. [MTV Movies Blog]
Resident Evil - Afterlife:
Here's an awesomely scary clip. [UGO]
Click to view

Battleship:
Hollywood's leading supplier of gravitas-for-hire, Liam Neeson, is reportedly going to bring a little dignity to another ludicrous action movie. The reports indicate he will play Admiral Shane, the father of supermodel Brooklyn Decker's character and future father-in-law of her fiance Taylor Kitsch. Hopefully this will lead to the great Liam Neeson/Tom Arnold/Rihanna acting showdown the world has so anxiously been waiting for. [Deadline]
And here are some pictures of Rihanna and Taylor Kitsch together on set, with more at the link: [Just Jared]

Journey to the Center of the Earth 2 - The Mysterious Island:
Speaking of actors who will seemingly appear in just about anything - and are all the more awesome for it - Michael Caine is reportedly set to play Josh Hutcherson's grandfather. The movie will reportedly following Hutcherson and Dwayne "The Rock" Johnson's attempt to rescue Caine from a mysterious island. Caine will reportedly be involved in multiple chase sequences, including one with giant bees, which brings us to the Michael Caine/The Rock/giant bees showdown we've also been so desperately waiting for. [The Hollywood Reporter]
Transformers 3:
Production will reportedly head to Florida once they're done in Detroit. They will reportedly be shooting in the Kennedy Space Center, which will include getting footage of the space shuttle Discovery as it prepares for its final mission. [Collect Space]
Harry Potter and the Deathly Hallows:
Another couple of images have been released: [CinemaBlend]

Megamind:
Here are two new character posters, showing off the lovably villainous Megamind and Minion: [HeyUGuys]

Men in Black 3:
A casting notice for extras is out. There are a couple interesting details - they want "People with 1960s era CARS in good to mint condition", which is more indirect confirmation of the new movie's time travel angle. They are also looking for muscular males, gorgeous models, FBI types, and, perhaps most intriguingly, "CHINESE COOKS with real-life training/work experience." Make of that what you will. [New Faces]
Devil:
Here's a new clip: [MTV Movies Blog]
Zombieland 2:
Director Ruben Fleischer and star Jesse Eisenberg say the first draft of the sequel screenplay is done, and Fleischer is confident it will be amazing. Both are eager to make the film, but due to their busy schedules it may not be for a year or two until they're both ready to go. [CinemaBlend]
Fringe:
And here are a couple interviews with Anna Torv and Jasika Nicole: [SpoilerTV]
The Event:
Here's a new official synopsis:
The Event is an emotional, high-octane conspiracy thriller that follows Sean Walker (Jason Ritter, "The Class"), an everyman who investigates the mysterious disappearance of his would-be fiancée Leila (Sarah Roemer, "Disturbia"), and unwittingly begins to expose the biggest cover-up in U.S. history.

Sean's quest will send ripples through the lives of an eclectic band of strangers, including newly elected U.S. President Elias Martinez (Golden Globe nominee Blair Underwood, "In Treatment"); Sophia Maguire (Emmy Award nominee Laura Innes, "ER"), who is the leader of a mysterious group of detainees; and Leila's shadowy father (Scott Patterson, "Gilmore Girls"). Their futures are on a collision course in a global conspiracy that could ultimately change the fate of mankind.
Then there's a new trailer: Click to view

And here's a fan Q&A session with Blair Underwood and Laura Innes: Click to view

Stargate Universe:
Here are some promo pics for the first two episodes: [SpoilerTV] [gallery 5632332]

Rodney McKay portrayer David Hewlett discusses his appearance in the fifteenth episode "Seizure", reprising his Atlantis role alongside Robert Picardo as Richard Woolsey:
"I was sitting there going, 'How does McKay fit into this world?' He's such a different character, and Atlantis is so different from SGU. "I was a little nervous about that. But I think they've done a really good job of getting them in there. It's not a McKay episode. It's not all about McKay and it's not all about Robert [Picardo]. It's an episode of SGU. But I think they've nicely melded the worlds together. You cannot have McKay in an episode - just like you can't have Jack [O'Neill] in an episode of Stargate - without a certain personality, or at least aspects of that personality, coming through," Hewlett told GateWorld. "But I think they've done a really good job of getting just enough of it in there. But not so much that it takes away from what they are doing on SGU."
Smallville:
Aquaman will reportedly be one of the dozens of returning characters for Smallville's tenth season swansong. Alan Ritchson will reportedly reprise the role in episode 9. [TV Guide]
Additional reporting by Mary Ratliff and Charlie Jane Anders.