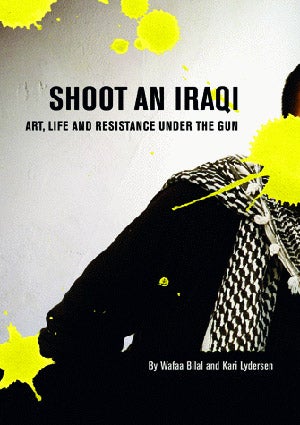 Is Wafaa Bilal an artist or simply a masochistic attention whore? The Iraqi artist spent a month in a gallery last year, with a webcam and a paintball gun connected to the Internet, letting people from 136 countries shoot 65,000 paintballs at him 24 hours a day. Was this a publicity stunt? A soul-searching art installation? Therapy for Bilal's suffering at the hands of Saddam Hussein and his brother and father's deaths in the U.S. invasion? Bilal's just published a book about his experience, and it sheds a bit of light on his futuristic experimental warzone. When we posted about Bilal's "Domestic Tension" project, plus his more recent project where he inserts himself into an anti-George Bush video game, reaction among io9 readers was definitely split, with several people lambasting Bilal for cheap sensationalism. So it's interesting to read Bilal's own account of his creative process, which starts from his feelings of constant trauma. Imprisoned by Saddam, Bilal managed to escape to the U.S., but his family stayed behind in Iraq. He writes about running for his life on several occasions, but also reading the news about Iraq with a punch-in-the-gut feeling. He also talks about his guilt about living in the "comfort zone" of the U.S. while his family and friends suffered, and his desire to bridge the "comfort zone" and "conflict zone" somehow. He also was inspired by the U.S. Army using video games as a major recruiting tool.
In the book, the story of Bilal's art installation is interspersed with his account of growing up in Iraq and feeling constantly surrounded by madness. He talks about his father going insane when he was a child, and how his father was abusive or psychotic even when he wasn't pretending to be a sheep. Later, an "epidemic of insanity" hits his town of Kufa later, as young people pretended to be insane to get out of fighting in the Iran-Iraq war. How can you tell the difference between a real insane person and a fake one? For those who are faking insanity, it's an act "born out of desperation," he writes. Later, Bilal's brother kills a man who raped him, and Bilal's family has to flee their town or face revenge killings. As the book goes on, Bilal's project gets more and more famous, and the book becomes more of an exploration of cyberculture and gaming culture. After about a week, the site runs out of bandwidth, and the project almost grinds to a halt — but a Chicago web developer steps in and donates a dedicated server, becoming one of the project's main sponsors. The constant stress, loneliness and grief starts to take a toll on Bilal, who hides his tears from the webcam. And then there are moments like this one:
A tall, fresh-faced young man with a crew cut ambles into the gallery. His name is Matt Schmidt, and he tells me that until recently he was a U.S. Marine. He saw the YouTube video where Estonia killed the lamp, and how upset I had become. He holds out a plastic bag. "I got you a new lamp and some light bulps," he tells me. "I figured you can use all the help you can get." Matt says he never thought much about the consequences of killing in war. He says he and his fellow Marines were always too busy trying to survive to be worried about their targets. But the paintball project has made him see things in a different light, enabled him to see his adversaries as human beings. He wishes his Marine buddies could visit the gallery.
In general, the onslaught is furious, traumatizing and overwhelming — and that's before Bilal's site hits on Digg. "I survived Digg day," Bilal writes. People spread rumors the site is a fake and Bilal is animatronic. If you want to see just how surreal online culture can get — and get a taste of where confrontational art is heading in the future — you should totally pick up a copy of Shoot An Iraqi.