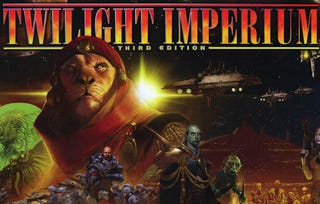 An ancient galactic civilization is fragmented; numerous intelligent species vie for political, commercial and military control. Meanwhile, the former galactic capital of Mecatol Rex hosts the Galactic Council. Can you create a power base strong enough to unite the galaxy and begin a new golden age? That's the task that lies before you in Fantasy Flight Games' epic classic, Twilight Imperium, now in its third edition.

With a variable map that encompasses an entire galaxy, hundreds of playing pieces, multiple winning strategies and a minimum play time of four hours, Twilight Imperium pretty much defines "epic sci-fi board game." If you're playing with six players (or eight, with the Shattered Empire expansion), plan to spend an entire day sparring with your friends over planetary systems and Galactic Council votes.
Each player has hidden agendas that they pursue to accumulate victory points, along with shifting public goals and a strong political component. You can wage war to win, but you can also legislate your way to victory. One of the strengths of Twilight Imperium is the feeling of participating in a true science-fiction narrative as each game winds its way to an epic conclusion. You can head over to the official site for the FAQ, optional rules and notes from the game's designers.
By the way, for the io9 readers who are gaming nerds like me, I'll be hitting the Origins Game Fair in Columbus, OH next month to bring you tons of info on all the latest tabletop aliens, space marines and star destroyers. Image by: Fantasy Flight Games.