It's a parade of lunacy this week over at Cult. Take a sneak peek at a very bad Santa, as well as the latest twisted feature from Tokyo Gore Police's director.
Sint
Dutch film Sint retells the story of Santa Claus with a twist. This currently in-development flick recasts Santa as an evil Bishop called Saint Nick who rises from the grave on the full moon of December 5 to slaughter any children in his wake. Enjoy the concept art that Quiet Earth discovered:

G/O Media may get a commission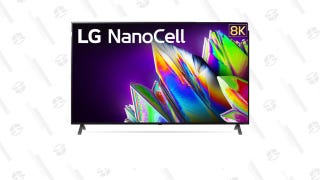 LG 75-Inch 8K TV




Samurai Princess
Sometimes, there's nothing better than a new trailer from an erotic-grotesque action film. Tokyo Gore Police director Yoshihiro Nishimura's new movie Samurai Princess follows a highly advanced mechanical doll equipped with 11 types of built-in weapons... even lady bit ones.
Neowolf
New movie Neowolf is all about a rock band of werewolves, but there's no word yet if they know "Werewolf Bar Mitzvah." Thanks for introducing me into this movie, Bloody Disgusting. Enjoy the trailer.