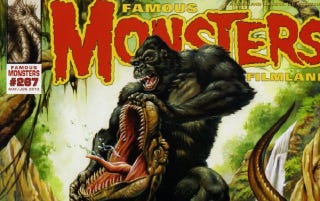 Famous Monsters of Filmland continues to be a must-read magazine. The latest issue not only features a cover story on King Kong's 80th birthday, and a Cthulhu feature, it also has a ginormous section on Gerry Anderson, creator of Thunderbirds, Space:1999 and UFO.
I learned a ton about Anderson from reading the huge section on his work, including just how much his output was shaped by his partnership with ITC's Lew Grade, who was constantly trying to get more money out of the Americans. And how close we came to getting a third season of Space: 1999, given that the ratings were still decent — but Grade wanted to move entirely into film production. Also, Anderson's divorce from his wife and producing partner Sylvia had a huge impact on his output, and was apparently not super amicable — he created an evil alien queen based on her in one of his later shows. In addition to a history of Anderson's work and a rundown of all his series, there's also a great feature about his weirdest monsters.
You can get Famous Monsters here.