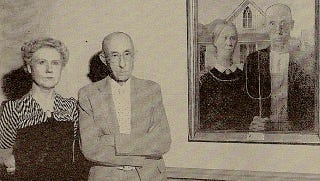 Here's a photograph seemingly plucked from The Twilight Zone. Chances are you're familiar with artist Grant Wood's iconic 1930 painting American Gothic, but you may not know that Wood recruited his sister and his dentist to pose for this slice of unsmiling Americana. And in 1942, the dour duo of goths reunited for the following press clipping:
On show with the late Grant Wood's American Gothic, one of the most famed U.S. paintings of its generation, went the models who posed for it, Nan Wood Graham, the painter's sister, wife of an oil-station operator, and Dr. B. H. McKeeby, a dentist. Occasion was the first showing of the picture in Cedar Rapids, Iowa, where Wood painted it twelve years ago.
In another reality, there are entire high-school cafeterias filled with blasé teenagers bearing sensible haircuts and coke-bottle glasses, listening to Siouxsie Sioux sing about butter churns and rhubarb harvests.
[Roger Bourland via Retronaut]