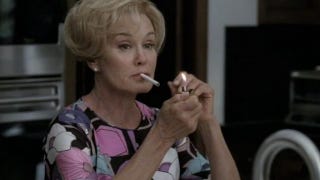 American Horror Story is starting over from scratch for its second season of horny ghosts and raw organ-eating. The new season will start in a new time period, with a new location and a lot of the original cast playing completely different characters. Like Bruce Willis in North.
According to The Hollywood Reporter Murphy recently announced this plans for this ghost drama: "[Season 2] is set on the East Coast at an institution for the criminally insane that is run by Jessica [Lange's new character]." Interesting... Why not throw Lange a One Flew Over the Cuckoo's Nest type character? Turning her into a completely different psychotic is really the only way they can top Constance Langdon... if that's even possible.
And the madness doesn't stop there, not only is beanpole rocker Adam Levine joining the cast as a "sexy guy" (real words!) but the whole thing is going to be set in a different time period. And! And! Zachary Quinto, Sarah Paulson, Evan Peters (Tate), and Lily Rabe (the crazy old timey doctor's wife) are all returning to play entirely different people. But which one will start the new season off with a cry-wank? Your guess is as good as ours. Maybe all of them, together. Because if there's one thing you can count on from AHS, it's new and better levels of WTF.