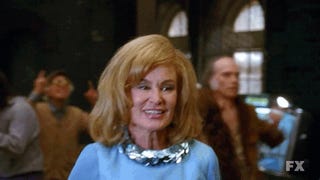 But what will the new creepshow focus on? We can only guess.
It was announced today that Brad Falchuk and Ryan Murphy's horror show will soldier on, smoking cigarettes and having questionable sex. The fourth season will get 13 episodes, once again proving that just because you're offered 22 episodes *cough Once Upon A Time cough* that doesn't mean you should take it. This is great news. The "Coven" horror anthology is hands-down the best yet, and we haven't really even reached the meaty underbelly of the witchy war.
That being said, what do you think (or hope) the new season will be focused around? Personally, I hope it goes back to ghosts. I love ghost stories. I don't necessarily need a whole new type of monster. But if I had to choose, I would do the ghost thing all over again with new people. Just no werewolves.
[via IndieWire]