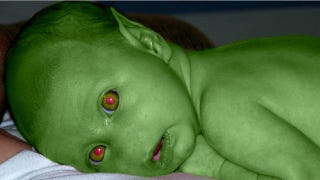 Now that it's conquered the zombie genre niche, AMC is taking on UFO space dramas. AMC has picked up the hour-long UFO drama Thunderstruck from David Eick of Battlestar Galactica. If The Walking Dead is any indication, you should brace yourself for some seriously depressing alien creatures.
Deadline reports that Scott Derrickson (the director of The Day the Earth Stood Still) and his longtime writing partner Paul Boardman (the two co-wrote The Exorcism of Emily Rose and Hellraiser: Inferno) are penning this new alien drama for AMC; Eick will executive produce.
All we know about Thunderstruck is that it focuses on "powerful and enigmatic entities that begin appearing all over the world. After one shows up in the town of Great Falls, Montana, the local citizens must grapple with the dramatic effects and growing mystery of repeated visitations."
That's all we have to go on, sadly. To make up for this dearth of information, we image-searched for "aliens" and found this extraterrestrial baby to gaze into your soul. Until we know more about Thunderstruck, alien baby will guide the way.
Top image via Dipity's Flickr.