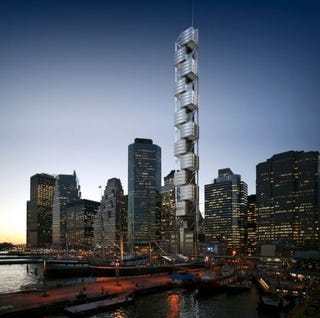 Dubai isn't the only city to see extravagant architectural projects fall by the wayside. Many of New York's more ambitious concept buildings, including a Frank Gehry-designed museum and this sky-high series of individual townhouses, also failed to materialize this decade.
Curbed NY picked ten of their favorite buildings from this decade's deadpool, mourning concept designs that fell prey to practicality, politics, and the credit crunch. Topping the list is the 80 South Street residences, depicted above. The tower would have consisted of a dozen four-story townhouses, each starting at $29 million. The project was ultimately doomed because there were "Not Enough Billionaire Supervillains" ready to shell out for a waterfront lair.
Also on the list is Frank Gehry's design for a Guggenheim Museum, which was to sit on the piers south of the Brooklyn Bridge and perpetually look like it was about to blow away.
And another experiment in innovative housing for the ultra-rich bit the dust with 56 Leonard Street. The great glass condos would have been arranged in the Jenga-like design we've seen in other recent architectural concept designs, with a silver jelly bean sculpture by Anil Kapoor wedged into one corner of its base.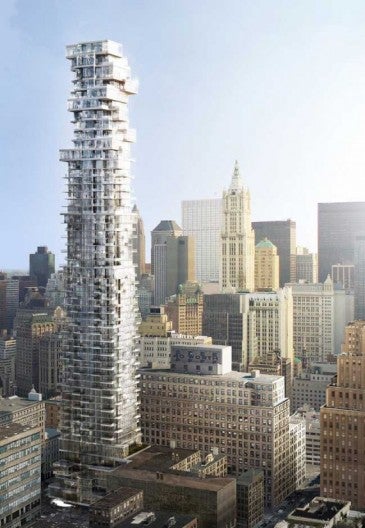 You can see the rest of the the top architectural casualties at Curbed NY.
Top 10 Crazy Things That Didn't Get Built [Curbed NY via About Architecture]