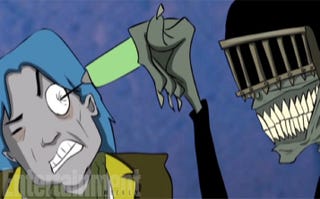 Still waiting around for the next Dredd movie? Well we've got something that might help curb the hunger: a first look at the unofficial animated Dredd series.
Dredd producer Adi Shankar has helped create a totally insane (in a good way) Dredd animated series that focuses on the Dark Judges. The title is Superfiend and Entertainment Weekly has a few screencaps from the unofficial work. Shankar is calling his creation a part of the "bootleg univers,e" and if you check on the additional images over at EW you can see a few other classic Dredd characters (but Judge Death is our favorite).
The series will supposedly come out later this month (and we seriously can't wait).