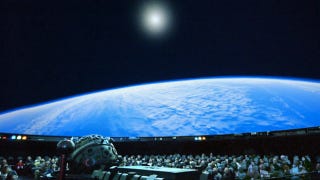 Still haven't finished your Holiday shopping list? Here is a list of items you can purchase online right here, in the stores of make in your home right now. Don't get deflated by "sold out" signs, this is a list of goodies we promise will please your geekiest loved ones.
Museum Membership
This is the greatest gift ever! Purchasing a museum membership offers opportunities to view exclusive exhibits, discounts (or free admission) to classes and lectures, sometimes great parties — plus it's a great way to support the world of art and science! Here's a list of some of our favorite spots just to get you started (if you have any more suggestions please let us know in the comments. American Museum of Natural History, Monterey Bay Aquarium, Museum of the Moving Image, Georgia Aquarium, The Dali Museum , the Gardner Museum, the Mütter Museum, and the Desert Botanical Garden.

Star Trek Cross Stitch Pattern
Get the whole crew stitched onto a pillow, a sweatshirt — or hell, just frame the swatch on your wall (it's lovely). The pattern is available for $6.00 over at Etsy. If you're not into Star Trek, check out this adorable Xenomorph pattern. So cute!

DVD Gift Set
Star Wars: The Complete Saga, Indiana Jones: The Complete Adventures, Harry Potter: Complete 8-Film Collection, Alien Anthology, Back to the Future: 25th Anniversary Trilogy. Would you rather give the gift of exciting television? Great — True Blood, Frozen Planet, and Twilight Zone are all available in glorious Blu-Ray! One, if not ALL, of these packages should be available at a Target, Best Buy or any other super store in your neighborhood. These places stock up like mad on these particular gift sets, so this is usually a pretty safe bet.
Medieval Times
Take your Game Of Thrones fan to a real life sword fight. Great for children and adult children, Medieval Times offers dinner and a show! Find your nearest castle, order tickets and follow your local hawk to the theater! It's super cheesy, but once you put on that paper crown, there's no going back. Note: while at Medieval Times, do not mix the hearty mead with the frothy piña colada, unless you want to spend the entire white pony dance party with your head in the chamberpot. DEATH TO THE GREEN KNIGHT!
Seneca Crane Beard Necklace
Imagine the scream of joy your little cousin, teenage daughter or hipster adult friend will wail when they open up their present and see a not-in-stores Seneca Crane Beard Necklace. Brought to you by the mind behind the Princess Leia headphone covers, this Hunger Games inspired jewelry is bound to inspire late nights of "WHO ORDERED THIS PIG" screaming sessions. Instructions available at Jackie Long Legs.
Beautiful Skull Cross Stitch Pattern
Handy with a needle? Then download this gorgeous cross stich pattern on Etsy (only $4.50) and make beautiful thread art for your friend who is just impossible to buy for. It will look like you spent months dreaming it up. Plus it's gorgeous and there are plenty of different patterns available.
Kaylee's Parasol
Believe it or not, recreating this signature Firefly's prop is actually not terribly difficult or expensive. You just need a steady hand and a lot of patience. All of the items (including the white parasol) can usually be found in a local flower shop or at your craft store (call ahead). The paint is readily available at a craft store. You will need a steady hand to draw out the spirals, but the end result is a gorgeous craft from a fan favorite. Check out the how-to guide at When Geeks Wed. Note: It's VERY important to use a DULL pencil or you will pierce the parasol.
The Gift of Entertainment: Spotify, Hulu Plus, Netflix
All these pictured movies, plus Sherlock, Freaks and Geeks, Doctor Who, Walking Dead, Buffy and X-Files, are available on Netflix instant watch. Right now. Netflix, it's the gift that keeps on giving. Buy someone a membership to Netflix, Hulu Plus or Spotify and they will thank you the next time they leave their house in 3 years.

Wolf Mask
For a small $5 on Etsy, you can create a world of adorable animal masks. Download the pattern and get to sewing.

Eve Plushie
Who needs store bought plushies when you can make your own. Follow the guide on Instructables (which seems almost TOO simple) and you can make this darling little robot. We love that she's in mid-giggle.

Adventure Time Crochet
Significantly more complicated than the Eva Plushie — but if you've got the skills, this is insanely adorable. All you need are a pair of educated hands and this PDF of Jake the Dog Amigurumi Pattern, which you can purchase for $4.50 at Etsy.

Audio Books
Available for purchase right now online. Is your recipient about to embark on a long journey? Do they love listening to podcasts or books while they run? Hell, do they just enjoy listening to amazing actors whispers stories in their ears? Try giving an audio book. Here's a sample we strongly recommend The World War Z audio book. (Warning: NSFW language). Alan Alda, Carl Reiner, Mark Hamill, Henry Rollins, John Turturro and Rob Reiner are just a smattering of the impressive names attached to this abridged reading.
Available at Audible. Not into WWZ, we've got a massive list of fantastic audio books right here.
Golden Snitch Ornament
Not nimble with the needle and thread, no worries. This idiot-proof golden snitch ornament is easy to make and will adorn your tree with a touch of geekiness from Surprise Aholic. Ornament instructions available on the site.

Knight Helmet
And finally the gift of epic warmth. Keep your face warm and your head awesome, by knitting this completely insane Knight Hat — the pattern is available from Etsy seller Cute Crafty Crochet. .
Top image via AMNH.