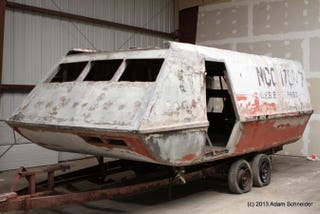 The Gallileo-7 shuttlecraft was a proud vessel, that served the crew of the U.S.S. Enterprise well on several episodes of Star Trek — most notably the episode that bears its name. But sadly, this amazing piece of space engineering had fallen into disrepair, until it was finally restored to spaceworthiness.
According to the Houston Chronicle, collector Adam Schneider bought the prop last year at auction for $61,000 — at that time, it was falling apart and covered in rust. Schneider hired some Star Trek fans among the crew at Master Shipwrights, and they basically rebuilt the ship's hull from scratch, as you can see in the photos below. The resulting beauty is being shipped in three pieces to Houston, where it'll be displayed at Space Center Houston and will be the centerpiece of a party at Space City Con, on August 2-4.
Check out some more photos of the restoration process, and even more over at the Chronicle.