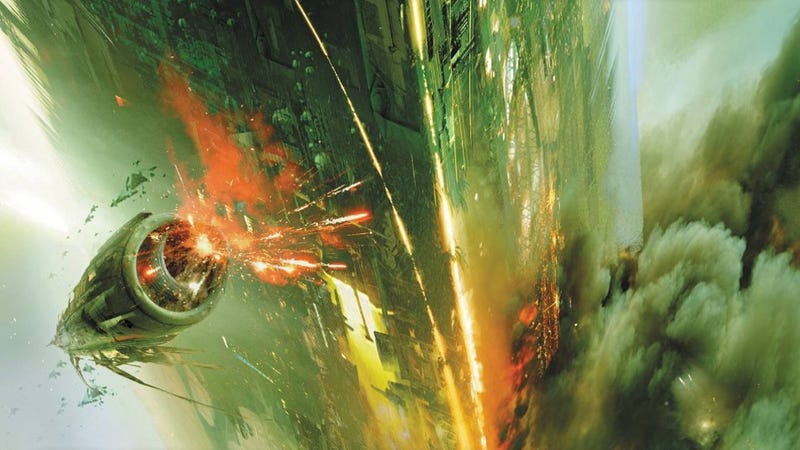 There's a ton of ambition on display in this year's science fiction and fantasy books. Bestselling authors are stretching out of their comfort zones, and our favorite authors are pushing the boundaries. Plus David Cronenberg has written a book about sex and weird diseases. Here's the ultimate guide to this year's can't-miss books.
Want even more? Check out our guide to January's books.
JANUARY
Shovel Ready by Adam Sternbergh (Crown)
A novel about a hitman in a dystopian near future, in which the rich all escape into virtual reality and everybody else is screwed.
On Such a Full Sea: A Novel by Chang-rae Lee (Riverhead)
A future dystopia that's more like Clockwork Orange than Hunger Games, as ecological collapse takes its toll on the last surviving power, New China.
Dreams of the Golden Age by Carrie Vaughn (Tor Books)
The sequel to Vaughn's After the Golden Age, which skips forward in time and follows the daughter of the original novel's protagonist, who wants to be a superhero like her grandpa.
A Highly Unlikely Scenario by Rachel Cantor (Melville House)
A strange near-future novel of competing pizza chains and someone who claims to be Marco Polo, returned from Cathay in the 13th century.
Breach Zone by Myke Cole (Ace)
Scylla's inhuman forces invade New York in the final book of Cole's trilogy about the Superhuman Operations Corps.
Leaving the Sea: Stories by Ben Marcus (Knopf)
The author of The Flame Alphabet returns with a brace of seriously messed up tales.
FEBRUARY
Tin Star by Cecil Castellucci (Roaring Brook)
A girl on her way to join a space colony gets beaten by the colony's leader, and marooned on a space station, where an alien takes care of her. But then three mysterious humans show up. Read the first five chapters for free.
Strange Bodies by Marcel Theroux (FSG)
Theroux, a National Book Award finalist, writes a jarring tale of a man in a mental hospital who insists he's a long-dead Samuel Johnson scholar — and the truth has to do with the Soviet Union's mysterious Malevin Procedure.
Influx by Daniel Suarez (Dutton)
In this thriller, already optioned as a movie by Fox, it turns out the reason we don't have flying cars, immortality and A.I. is because a few people have been hoarding these advances for themselves, and locking up geniuses in a high-tech prison.
Annihilation by Jeff VanderMeer (FSG)
The first book of the Southern Reach trilogy, the other two parts of which are also coming this year. VanderMeer tells the story of the twelfth expedition to the mysterious Area X, which has been cut off from the rest of the world for decades.
One More Thing: Stories and Other Stories by B.J. Novak (Knopf)
These weird stories include a tale of the first artificial intelligence, plus a newly dead man who arrives in Heaven and struggles with keeping a promise to visit his grandmother.
The Flight of the Silvers by Daniel Price (Blue Rider Press)
Hannah and Amanda survive the destruction of their world, and find themselves on a strange other world, with flying restaurants and appliances that adjust the flow of time — and they have superpowers!
Dreamwalker by C.S. Friedman (Daw)
The author of the Coldfire Trilogy is back, with a story of a girl who has strange dreams of other worlds, that turn out to be more significant than she knows.
Grasshopper Jungle by Andrew Smith (Dutton)
Austin and his best friend Robby have accidentally unleashed an army of six-foot-tall praying mantises that devour everything. Oops?
MARCH
Black Moon by Kenneth Calhoun (Hogarth)
A post-apocalyptic novel in which a plague of insomnia has struck the human race, which has gotten early praise from Charles Yu.
The Pilgrims by Will Elliott (Tor)
A slacker would-be journalist in London goes through a portal into a strange world of dragons and giants, where the evil Lord Vous is close to becoming immortal.
Words of Radiance by Brandon Sanderson (Tor)
The saga that began with the Way of Kings continues, as the war with the Parshendi heats up and Dalinar leads an army into the Shattered Plains in an attempt to end it.
Death Sworn by Leah Cypress (Green Willow)
An exiled sorceress is forced to teach magic to a clan of assassins. Yeah, that'll turn out well.
The Burning Dark by Adam Christopher (Tor)
Once, Captain Abraham Idaho Cleveland saved an entire planet from a rampaging machine intelligence, but now he's stuck in a backwater space station — but he's got a surprising friend.
Lockstep by Karl Schroeder (Tor)
Toby sleeps for 14,000 years in deep space, never expecting to wake up — and then he discovers that the Lockstep Empire has been founded on long cryo-sleep voyages, and its ruling family is his own.
The Tropic of Serpents by Marie Brennan (Tor)
The eagerly awaited sequel to Brennan's Natural History of Dragons, in which Lady Trent narrates the next episode in her career: a journey to the war-torn continent of Eriga.
APRIL
Dark Eden by Chris Beckett (Broadway)
On a sunless planet, there are myths that once light came from the sky and people traveled through it in ships — but only one person dares to break the laws and venture out into the dark. This book already won the Clarke Award in the U.K.
Deadroads by Robin Riopelle (Night Shade Books)
This debut novel follows the Sarrazins, a family of mystics on the Bayou who are driven apart by feuds and brought back together by a surprising tragedy.
The Inventor's Secret by Andrea Cremer (Philomel)
Cremer isn't just the author of the bestselling Nightshade novels — she's also a history professor. And here she writes an alternate history in which the British won the Revolutionary War.
Peacemaker by Marianne de Pierres (Angry Robot)
The author of the Sentients of Orion series is back, with the story of Virgin Jackson, the senior ranger in the world's last natural landscape, who's shocked when an imaginary animal from her childhood turns up — and then people start dying all around her.
Lagoon by Nnedi Okorafor (Hodder & Stoughton)
At long last, a new novel from the author of Who Fears Death. In the future, Lagos is the world's biggest megacity, and three strangers are brought together by a visitor from the stars, and sent on a race to save the world.
Afterparty by Daryl Gregory (Tor)
In a future where you can 3D-print mind-altering drugs without leaving your house, one woman struggles with the guilt of having invented Numinous, a drug that lets you see God.
Steles of the Sky by Elizabeth Bear (Tor)
The final volume of Bear's Eternal Sky trilogy — Re Temur races to defeat his usurping uncle, but can he triumph before the whole world catches fire?
The Here and Now by Ann Brashares (RHCB)
Prenna is a refugee from the future, a time when a mosquito-borne pandemic wiped out most of the human race. She can never reveal her origins to anyone — but then she falls in love.
The First Fifteen Lives of Harry August by Claire North (Redhook)
Every time Harry dies, he's reborn in the same time and place, with memories of all his previous lives. But as he dies for the eleventh time, he's given a warning: the world is ending.
The Revolutions by Felix Gilman (Tor)
The author of the Half-Made World duology is back with a standalone Victorian tale of esoteric science, including equations that drive you mad and dueling magical societies.
Valour and Vanity by Mary Robinette Kowal (Tor)Another one of Kowal's delightful novels about Regency magic — but this one is a heist novel!
MAY
The Man With The Compound Eyes by Wu Ming-Yi, Translated by Darryl Sterk(Pantheon Books)
In this ultra-weird novel from Taiwan, a woman's home is destroyed when an island of trash collides with it, and on the trash island she meets a native from a mythical land who was sacrificed to the Sea God.
The Oversight by Charlie Fletcher (Orbit)
There used to be hundreds of members of the Oversight, the organization that guards the boundaries between the mundane and the magic — but now they are just five. Is a strange girl their salvation, or their destruction?
My Real Children by Jo Walton (Tor)
Walton's first novel since the multi-award-winning Among Others — it's 2015, and the elderly Patricia Cowan remembers two pasts: one in which Kennedy died in a bomb blast in 1963, and one in which Kennedy chose not to run for reelection in 1964 after a nuclear disaster.
The Severed Streets by Paul Cornell (Tor)
In the sequel to London Falling, Detective Inspector James Quill and his supernatural police squad investigate an invisible murderer, encounter a rat king, and go to Hell.
While We Run by Karen Healey (Little Brown)
In this companion volume to Healey's When We Wake, it's 2127, and Tegan has been dead for 100 years — except that she was frozen and brought back to life.
Queen of the Dark Things by C. Robert Cargill (Harper Voyager)
In the sequel to Dreams and Shadows, the wizard Colby has saved Austin from an army of fairies — but now everybody knows who he is, and a lot of people want something from him. Mostly payback.
Defenders by Will McIntosh (Orbit)
The author of Love Minus Eighty tells a story of the aftermath of an invasion of telepathic aliens — and what do you do with all the supersoldiers you created to defeat the alien threat?
The Bees: A Novel by Laline Paull (Ecco)
In an ancient hive society, only the queen may breed — until one worker bee discovers stirrings within herself that threaten the whole fabric of society.
Skin Game by Jim Butcher (Roc)
It's bad enough that Harry Dresden is stuck being the Winter Knight to the Queen of Air and Darkness — but now she's traded his skills to some of the worst villains, who want him to help break into a magical vault.
JUNE
The Girl With All the Gifts by M.R. Carey (Orbit)
Mike Carey is back! In this story, it's a post-apocalyptic future, and a group of gifted children are being kept underground and taught in a very special school. Except that sometimes, one of them is taken away and experimented on, never to be seen again. Read a preview.
California Bones by Greg van Eekhout (Tor)
The son of a powerful magician is now a petty thief — until he's hired to undertake a heist, stealing from the magical society that killed his dad.
Cibola Burn by James S.A. Corey (Orbit)
The newly opened gates have created a gold rush, as people stream out to claim thousands of habitable planets — but what happened to the vast intergalactic civilization that created the gates in the first place?
The Rhesus Chart by Charles Stross (Ace)
In the latest Laundry Files novel, a junior manager discovers the rise of an alarming virus, and then uncovers a startling conspiracy between humans and monsters.
The Thorn of Emberlain by Scott Lynch (Gollancz)
The fourth Gentlemen Bastards novel, in which it's half a year later and Locke Lamora and Jean Tannen try to get back on their feet by pulling a new con.
The Long Mars by Terry Pratchett and Stephen Baxter (Harper)
The third novel in the Long Earth series, set in 2040-2045, in which U.S. Naval Commander Maggie Kauffman leads an expedition to the farthest reaches of the Long Earth.
Dark Metropolis by Jaclyn Dolamore (Disney-Hyperion)
Sixteen-year-old Thea is forced to provide for herself and her mother, who's been cursed with a spell of madness — but the city is full of supernatural dangers.
JULY
Half a King by Joe Abercrombie (Del Rey)
The disabled Prince Yarvi was all set to become a Minister instead of a prince, but then his father and brother are killed, and he has to try and become a king instead. Check out an excerpt!
Path to Power by Karen Miller (Orbit)
We loved Miller's Godspeaker trilogy, and now she's back with the first book in a new series about a kingdom divided by two brothers' long-ago treachery, and the infighting that might tear it apart again.
The Angel of Losses by Stephanie Feldman (Ecco)
A graduate student in literature discovers a story written by her grandfather, and then discovers the secret truth about Jewish myths.
The Young World by Chris Weitz (Little Brown)
The debut novel from thedirector of About a Boy, plus the ill-fated Golden Compass movie and one of the Twilight films. A plague has wiped out most of humanity and the survivors live in small tribes — until one tribe gets a clue to a cure.
The Outsorcer's Apprentice by Tom Holt (Orbit)
Love this title. Basically, the Wizard has come up with an incredibly profitable business model involving a limitless workforce and endless parallel worlds — but now a young man who doesn't really understand what's going on threatens to ruin everything. And yes, that means everything.
AUGUST

The Broken Eye by Brent Weeks (Orbit)
The next Lightbringer novel, in which the old gods are awakening and the Chromeria races to find its lost Prism — but he's imprisoned on a pirate galley.
The Widow's House by Daniel Abraham (Orbit)
The follow-up to The Dragon's Path and The Tyrant's Law, in which we learn the truth about the links between the war and the fall of the dragons thousands of years earlier.
The Magician's Land by Lev Grossman (Viking)
The conclusion to the Magicians trilogy. Quentin Coldwater has been cast out of the magical land of Fillory, so he goes back where it all started: the school of Brakebills.
The Fifth Season by N.K. Jemisin (Orbit)
In a world that has suffered from frequent, repeated extinction-level events, over millions of years, magic and life itself have adapted to having a mass extinction every few hundred years. But this time might be different.
The Old Man's War author shifts gears and writes a near-future thriller, about a disease that makes people stay in one place.
Radiance by Catherynne M. Valente (Tor)
Valente's next ambitious book takes place in an alternate universe, where a film-maker travels around the Solar System documenting the other inhabited planets.
The Ripper Affair by Lilith Saintcrow (Orbit)
The latest Bannon and Clare novel features a serial killer slashing women in the steam tunnels of Londinium.
Fish Tails by Sheri S. Tepper (Harper Voyager)
A third book in the series that began with The Plague of Angels and The Waters Rising.
Lair of Dreams by Libba Bray (Little Brown)
A follow-up to The Diviners — Evie O'Neill has been "outed" as a Diviner and has become a celebrity, America's Sweetheart Seer. But there's a downside to fame, and meanwhile, a mysterious sleeping sickness is killing people.
The Galaxy Game by Karen Lord (Del Rey)
A new standalone novel in the same universe as Lord's Best of All Possible Worlds. Rafi, the son of a cruel telepath, is persecuted by the government for his abilities — so he flees to a world where telepathy is common. But then he discovers a threat to the entire galaxy.
Your Face in Mine by Jess Row (Riverhead)
This one is sure to be controversial — a novel about "racial reassignment surgery," in which a Jewish man becomes African American because he feels more comfortable in a darker skin.