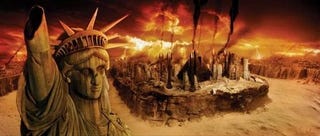 One man takes on the ruler of post-apocalyptic New York City, in a quest for vengeance that may turn into a hope for salvation. Check out this new concept art for the post-apocalyptic pot-boiler The Last City.
It's great to see concept art that shows off the muddy, fiery palette of this film. Here's a promo reel, with narration by Robert Duvall, that came out a couple months ago. With any luck, we'll be able to report soon that cameras are rolling on this film.
Synopsis:
Set in post-apocalyptic New York City, "The Last City" is a noir CGI thriller that follows detective Michael Blake, who sets out to avenge the brutal murder of his brother Gabe and save hispregnant widow (May) from the clutches of New York City's overlord, Max White. As Blake strikes down White's henchmen one by one, street battle after car chase, his vengeance begins to takeon a new meaning. He realizes he is leading the hope of his brother's underground society to a new salvation by challenging White's grip over the city.

Blake, in all his fury, brings a full assault to White's doorstep by rousing the spirits of the underground survivors and arming them to challenge White's authority. By the time Michael reaches White, the fight brings him to the edge of hell on earth where the victor determines the fate of the human race.
Check out this amazing concept art!
This post by AgentOrange originally appeared at Quiet Earth.