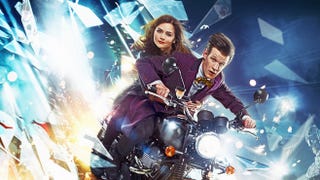 So many aliens, you guys. Extra-terrestrials are dominating this week's DVD and Blu-ray releases, and they're not all good. Honestly, the only nice one is the Doctor, and since he mostly abducts hot young Earth women, even that's arguable.
Clara joins the Doctor for his most recent adventures, including Davos on a submarine, Neil Gaiman's Cybermen, Willow, and more. The set comes with a few minisodes, a feature on the modern companions (except Donna Noble for some reason) and more.
And here's the Christmas special, which is so completely tied into the events of Season 7 Part 2 that it's genuinely kind of annoying it's not just part of that DVD set, Grr.
Keri Russell and her family battle a group of aliens who are apparently really into the Paranormal Activity movies.
• Beetlejuice: The Complete Series
The cartoon based on the Tim Burton movie finally comes to DVD. The season one DVD set is also available today, if you like the show but what to make sure it takes up maximum space on your DVD shelf.
Superwomen be crazy.
• Mighty Morphin Power Rangers: Season 2 Volume 2
The White Power Ranger arrives to battle lord Zedd and usher in an era of countless "White Power" jokes.
Aliens attack Earth in this cheapie from Asylum.
Aliens attack Earth in this cheapie from Inception, who must be super-bitter that Asylum is releasing a shitty alien invasion movie on the exact same day they are.