We've been obsessed with Alexander Payne's movie Downsizing for years. And now that star Matt Damon has just broken the box office with The Martian, it looks like Damon and Payne finally got the go-ahead to make their weird-as-fuck satire.
In Downsizing, it's the near future, and Matt Damon plays a guy who is down on his luck, so he decides to undergo a process that will shrink him to teeny-tiny size, so he can go live in one of the new communities of miniature humans that are springing up. Damon's role was originally going to be played by Paul Giamatti, which probably would have been hilarious. Reese Witherspoon plays the wife of the main character, who agrees to be shrunk with him but then backs out at the last minute. And there's another person who plays a pair of twins, one of them normal size and one of them tiny-size—that was originally going to be Sasha Baron-Cohen, but who knows who it'll be now. The last time we heard a cast list for the film, the supporting cast included Alec Baldwin, Neil Patrick-Harris and Jason Sudeikis.
Payne was planning on making Downsizing with Fox Searchlight, but could never get it off the ground. Now it'll be made by Paramount, who might have a bit more money for the expensive VFX this will require. The film will go into production in the spring, and should be out in late 2017. [The Wrap]
---
Contact the author at charliejane@io9.com and follow her on Twitter @Charliejane. Top image: Kevin Winter/Getty Images.
G/O Media may get a commission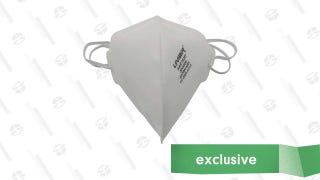 NIOSH CDC-Certified N95 Masks (10-Pack)