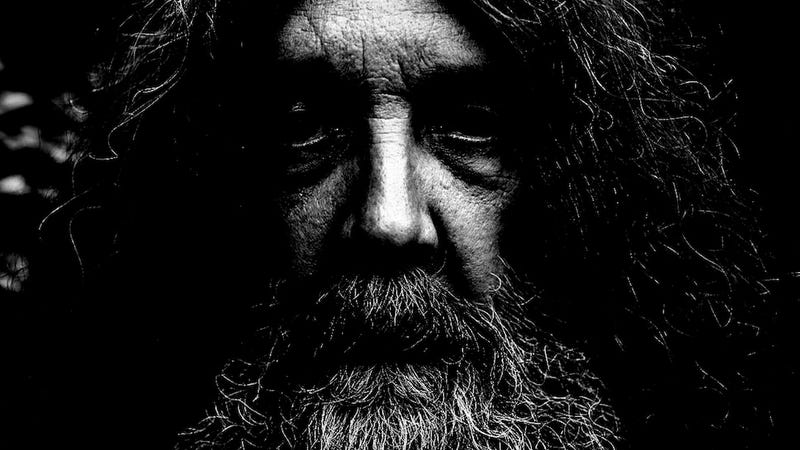 When Alan Moore wasn't busy making Watchmen in the '80s, he was writing a screenplay for a twisted version of Beauty and the Beast titled Fashion Beast. This lost epic finally arrives as a graphic novel this week, along with Jeff Lemire's new Vertigo series, the Dark Tower finale, a Robocop you never saw and more!
---
New Issues
Dark Horse:
• Abe Sapien #5: When a half-eaten body washes up on shore, a nearby cult blames Abe.
• Other releases: Catalyst Comix #2, Victories: Transhuman #4.
DC:
• Trillium #1: Sweet Tooth's Jeff Lemire returns to Vertigo for this dual story about a scientist examining an alien species in 3797 and an English explorer discovering a lost temple in Peru in 1921.
• The Phantom Stranger #11: The Phantom Stranger leads Batman, Katana, and Deadman into hell to rescue the soul of a Justice League member.
• Dial H #15: The final issue of this excellent (and tragically canceled) reimagining of the classic DC title.
• Other releases: Action Comics #23, Ame Comi Girls #6, Batwing #23, Detective Comics #23, Earth 2 #15, Fairest #18, Green Arrow #23, Legends of the Dark Knight #11, Looney Tunes #214, The Movement #4, Scooby Doo #36, Stormwatch #23, Swamp Thing #23.
IDW:
• Godzilla: Rulers of the Earth #2: A group of "kaiju watchers" stumble upon Godzilla's deadliest foe.
• Other releases: Dungeons & Dragons: Cutter #4, GI Joe: Cobra Files #5, Transformers: Monstrosity #3, Transformers: Robots in Disguise #20.
Image:
• Sidekick #1: When his mentor The Cowl is murdered, his sidekick Flyboy becomes an object of ridicule and slowly begins going insane.
• Satellite Sam #2: After burying his children's TV host father, Mike discovers an unpleasant surprise in a pile of already unpleasant photographs.
• Burn the Orphanage: Born to Lose #1: In his attempt to get revenge on the people who burned down his home and hurt his family, an orphan named Rock fights goons, punks and "topless ninja strippers."
• Other releases: Activity #14, Artifacts #30, Blackacre #9, Cyber Force #5, Fatale #16, Invincible Universe #5, The Legend of Luther Strode #6, Manhattan Projects #13, Miniature Jesus #4, Prophet #38, Sheltered #2, Ten Grand #4.
Marvel:
• The Dark Tower: So Fell Lord Perth #1: Marvel's Dark Tower saga concludes with this one-shot, telling the tale of Arthur Eld's battle against Lord Perth.
• Superior Spider-Man #15: Spider-Man's stalking of the Hobgoblin, as seen through the villain's eyes.
• Avengers #17: The Avengers recruit yet more members to battle the oncoming menace in the "Prelude to Infinity" finale.
• Other releases: All New X-Men #15, Avengers AI #2, Cable and X-Force #12, Daredevil: Dark Knights #3, Deadpool Kills Deadpool #2, The Emerald City of Oz #2, Hunger #2, Iron Man #14, Kick-Ass 3 #2, Marvel Universe Avengers: Earth's Mightiest Heroes #17, Superior Carnage #2, The Superior Foes of Spider-Man #2, X-Factor #260.
Other:
• Robocop: Last Stand #1: Frank Miller's original screenplay for Robocop 3 comes to comics, unedited and unadulterated.
• John Carpenter's Asylum #2: Detective Duran and the ex-communicated priest Beckett hunt for the Angel Killer, but he's more than a simple serial killer.
• Lady Rawhide #1: The not-at-all-unreasonably-dressed heroine tangles with a fascist government and group of vigilantes she's inspired, but who take things too far.
• Other releases: Atomic Robo: Real Science Adventures #9, Atomic Robo: Savage Sword of Dr. Dinosaur #2, Black Bat #4, Charismagic Vol. 2 #4, Critters #13, Crossed Badlands #34, Damsels #9, Dark Shadows #19, Final Plague #2, Game of Thrones #16, George R.R. Martin's Skin Trade #2, Grimm Fairy Tales: Down the Rabbit Hole #3, Grimm Fairy Tales: Zombies: Cursed #2, Helheim #6, Higher Earth #9, Kevin Keller #10, Knightingail: Shadow Divisions #1, Legend of Oz: The Wicked West #10, Lords of Mars #1, Mega Man #28, The Owl #2, Pathfinder: Goblins #1, Planet of the Apes: Cataclysm #12, Princeless: Tales of Girls Who Rock, Quantum & Woody #2, Screwed #3, Serusis #2, The Shadow #16, Shadowman #9, Skyward #2, Steam Engines of Oz #2, Suicide Risk #4, Ursa Minor #6, Vampirella #31, Warlord of Mars: Dejah Thoris #28.
---
Trade Paperbacks and Hardcovers
Dark Horse:
• Trekker Omnibus: One of Dark Horse's earliest hits is collected, starring a beautiful bounty hunter who must navigate her dangerous scifi world on a journey of self-discovery.
• Other releases: Fagin the Jew 10th Anniversary Edition, Lone Wolf & Cub Omnibus Vol. 2, Orchid Vol. 3.
DC:
• In the Days of the Mob: When Jack Kirby first came to DC in the '70s, he helped make this magazine about the lives and crimes of the mobsters of the '30s.
• Other releases: Batman: Arkham Unhinged Vol. 1, Batman: Arkham Unhinged Vol. 2, Disturbingly Awful Mad, Saucer Country Vol. 2: Reticulan Candidate.
IDW:
• Locke & Key Special Edition Vol. 2: Head Games: Another beautiful Locke & Key leather-bound hardcover, containing the 6-part "Head Games" series and Joe Jill's original scripts.
• Other releases: Feldstein: The Mad Life and Fantastic Art of M. Feldstein, TMNT Artobiography, Torpedo Vol. 4.
Image:
• Distant Soil: The Gathering Vol. 1: The young heir to alien royalty and the most powerful psychic in the universe escapes with her brother, but her religious father would rather her dead than free.
• Other releases: Todd: The Ugliest Kid on Earth Vol. 1.
Marvel:
• Daredevil by Mark Waid Vol. 5: Daredevil teams with the Superior Spider-Man to battle… Stilt-Man?!
• Thor by Walter Simonson Vol. 1: A massive collection of the best Thor comics of all time and one of the best comic runs of all time, to boot.
• Iron Man Vol. 2: The Secret Origin of Tony Stark Book 1: Tony Stark suddenly discovers his birth is somehow tied into Las Vegas and Area 51.
• Other releases: The Savage Wolverine Vol. 1: Kill Island, Ultimate Spider-Man Ultimate Collection Book 4, Venom: Toxin with a Vengeance, The Winter Soldier Vol. 4: Electric Ghost.
Other:
• Alan Moore's Fashion Beast: Alan Moore's lost 1985 screenplay, a dark version of Beauty and the Beast as only he could tell it, finally surfaces as a graphic novel from Avatar Press.
• Osamu Tezuka's Twin Knight Vol. 1: The second Princess Knight series, a classic shojo comic from the "god of manga" Osamu Tezuka, starring one of Japan's first — and greatest — superheroines.
• Rubicon: Five Navy Seals defends a remote village from the Taliban in this modern, loose retelling of Seven Samurai.
• Other releases: Alice in the Country of Hearts: Clockmakers Vol. 1, Bag of Marbles, Bakuman Vol. 20, A Certain Scientific Railgun Vol. 8, Crossed Vol. 6, Damned Vol. 1, Dance in the Vampire Bund Omnibus Vol. 3, The Devil and Her Love Song Vol. 10, Explorer, Fairy Tail Vol. 28, Garth Ennis' Battlefields Vol. 7: Green Fields Beyond, Happy Marriage Vol. 1, Headsmash, Kamisama Kiss Vol. 13, Kanokon Collected Edition Vol. 2, Kaze Hikaru Vol. 21, Kimi ni Todoke Vol. 17, Kingdom Hearts II Vol. 1, Library Wars: Love and War Vol. 10, The Little Prince Vol. 9: Planet of the Giant, Naruto Vol. 62, Nathan Hale's Hazardous Tales Vol. 3: Donner Dinner Party, No Straight Lines, Nura: Rise of the Yokai Clan Vol. 16, Over the Wall, Phases of the Moon, Pokémon Black & White Vol. 11, Rachel Rising Vol. 3: Cemetery Songs, Red Sonja Vol. 11: Echoes of War, Sacred Blacksmith Vol. 2, Slam Dunk Vol. 29, Tegami Bachi Vol. 14, Thrilling Adventure Hour, Tib & Tumtum Vol. 1: Welcome to the Tribe, Toriko Vol. 17, Vampire Cheerleaders Must Die Vol. 1, Witch Buster Books 1-4, World War Blue Vol. 2.
---
As usual, here's the list of everything being released to comic stores tomorrow, and you can find your nearest comic retailer here.