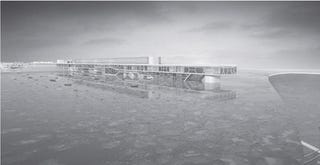 As the polar caps melt, new methods of connecting communities will emerge and the Port Churchill project seeks to take advantage by building an airport/shipping dock in the Northwest Passage.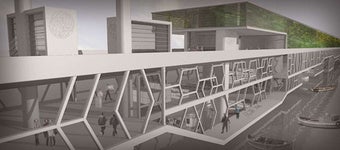 Developed by Amrit Phull and Claire Lubell of the University of Waterloo's Frozen Cities/Liquid Networks studio, the Air/Port looks to take advantage of new waterways created by the thawing of the Arctic Circle's polar ice by combining the airstrip — "a mark of every arctic community" — with a port that could facilitate new waterborne commerce as well as generate its own marketable goods via a greenhouse. According to InfraNet Lab:
The current relationship between community and the goods they rely on is faceless, and with the decline of subsistence hunting due to changing migration patterns, the connection to food is disappearing. The project emphasizes this connection through on site food production which promotes trade between communities, not to mention decreasing reliance on the south for fresh goods and associated dependence on air infrastructure (which is both expensive and largely consuming of jet fuel). The (air)port effectively acts as an infrastructural hub for bringing together local community around production, as well as connecting this community to larger regional networks through shipping. The Greenhouse coupled within the port takes on different functions in the non-growing season, and is complimented with a market and cultural programs.
(Via Warren Ellis)