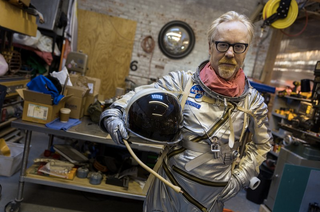 I am not usually a covetous person, but Adam Savage's painstakingly accurate replicas of the blue flight jacket worn by NASA's Apollo astronauts and the iconic, silver, full-body spacesuit used during the Agency's Mercury missions literally have me making grabby-hands at my computer screen.
Savage had his Mercury pressure suit custom tailored from PVC leather, with machined aluminum neck and wrist rings for the helmet and gloves, and the result is really, really beautiful:
But for as incredible looking as the spacesuit is, the flight jacket is perhaps the more technically impressive piece of the two, insofar as it "matches in every stitch snap zipper and detail the original apollo jackets," says Savage, "even down to the orange lining":
Seriously, though – why does Savage get to have all the fun?
See more photo and video of Savage in his space replicas over at Tested.