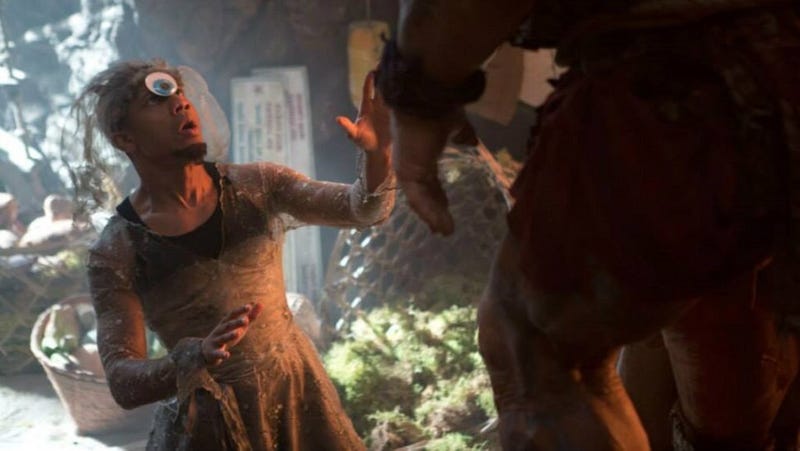 The new Percy Jackson movie, Sea of Monsters, is in theaters tomorrow. And returning in the role of Grover the Satyr is Brandon T. Jackson, who once again supplies a lot of the comedy moments. But there was one comedy sequence in the film that he wasn't crazy about doing.
Spoilers ahead...
We spoke to Jackson on the phone the other day, and he told us there's one sequence in the film he wasn't super excited about: the part where Grover is captured by Polyphemus the satyr-eating cyclops. Grover disguises himself as a female cyclops, and cooks and cleans for Polyphemus until his friends finally show up to rescue him.
Jackson felt like this was something that had been done to death. It wasn't drag, exactly, because he doesn't wear lipstick and heels and full makeup, it was just "some weird cyclops thing." And Jackson feels like other films have already "overplayed" this comic device, like Tootsie and Big Mama's House and Sherlock Holmes 2, so it's lost a lot of its comedic power. "Everyone's done it so much [that] as a pure comic, it's not original any more," he tells io9.
But for little kids, "who've never seen that before," maybe it's hilarious, adds Jackson. Plus, that subplot is in the books, and kids are going to expect the movie to stick closely to the books.
Jackson has read the first few books, and feels like author Rick Riordan did a great job of blending adventure and humor. And he doesn't at all mind being the comic relief in the movies. "I like action comedy. I like making people laugh, and doing cool stuff." And in a movie franchise, "we each have our own roles to play. If somebody else is the quarterback, you gotta be the receiver." But he's hopeful that he gets to make the third movie, where Brandon will meet the god Pan and get some more serious material to work with.
Percy Jackson: Sea of Monsters is in theaters tomorrow.