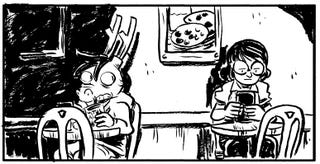 In this short webcomic, a petit dragon goes to the same cafe each day to read his favorite book series and moon over the weary barista behind the counter. But as he fantasizes about all the ways he would woo her, he starts to wonder, what is he really hoping for?
As with his North World comics, Lars Brown sets his latest comic, Single Dragon, in a world that's a lot like our world, but with a dash of high fantasy. But the most fantastical aspects of this particular story happen inside the dragon's head. He daydreams about the things he wants to say to the barista, all the ways he might impress her. But as his imagination wanders, his thoughts on the relationship between customer and cafe employee change. He uses one brand of fantasy to explore another.
Brown started this as a quickie comic for 24-Hour Comics Day, but took the week to turn it into this complete comic.
I also recommend checking out Brown's other comics, particularly his purgatorial dungeon-delving webcomic Penultimate Quest.
Single Dragon [Lars Brown]