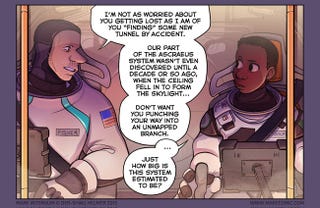 Der-shing Helmer, creator of The Meek, is back with a new webcomic, and it's set on Mars. In Mare Internum, an entomologist arrives at an isolated Mars research station just as another researcher has been fired. But before he departs, these two scientists will learn a great deal about each other's troubles.

Quick content warning: the comic opens with a character contemplating suicide.
First off, to answer a question fans of The Meek might have, Helmer has said that, yes, she'll be returning to her fantasy webcomic later this year.
But in the meantime, now is a great time to hop on Mare Internum. It's just getting started, but it's already telling an intriguing story with the same level of rich and expressive art that Helmer devoted to The Meek. After a dispute with his commander and the loss of his popular research robot, Michael Fisher has been fired from his position and is scheduled to return to Earth. On the day he's supposed to depart, Rebekah "Bex" Egunsola arrives, fresh-faced and eager to explore the possibility of farming crickets on Mars.
Bex has long followed Michael's research, and she's eager for his insight — and also concerned about his conflicts with the station's commander. Michael reluctantly decides to show her the ropes, but he's so obsessed with his own demons that it takes him a while to realize Bex has demons of her own.
In the few dozen pages that Helmer has posted so far, she has developed a Mars ripe for exploring and a cast of characters who clearly possess their own internal lives. Plus, the comic is already teasing plenty of enticing questions for the readers: How did Michael's research mission go awry? Why has Bex decided to leave her family behind? And what will happen when the two of them venture outside together on the Red Planet?