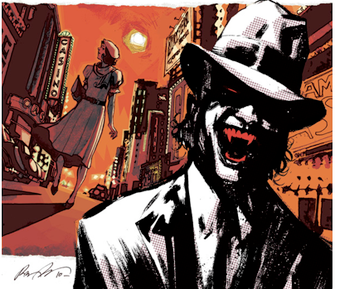 This week's comic crop brings us some wacky anachronism. Vampires run amok in 1930s Sin City, Billy the Kid investigates the Whitechapel Murders, and supernatural firearms invade the Old West in a new title from Oni Press. Here's what's up.


American Vampire 6 (DC/Vertigo): Scott Snyder kicks off a new chapter of the American Vampire saga — Skinner Sweet and Pearl hit 1935 Las Vegas. Exsanguination (and this awesome cover by Rafael Albuquerque, above) follow in their wake.
Weird War Tales One-Shot (DC): Darwyn Cooke does the cover to this one-shot and supplies a story as well. Fingers crossed for a Haunted Tank cameo.
Billy The Kid's Old Timey Oddities And The Ghastly Fiend - London 1 (Dark Horse): Billy the Kid hunts down Jack the Ripper in this alternate history tale from Eric Powell of The Goon. Guest-starring The Elephant Man and featuring a back-up story featuring The Goon himself.
Daken - Dark Wolverine 1 (Marvel): Wolverine's bisexual, tattooed, pheromone-powered son makes his move now that his father's body and soul are betwixt and between Earth and Hell.
Amazing Spider-Man 641 (Marvel): "One Moment In Time" (OMIT) concludes, thus wrapping up the events of One More Day (OMD) and Brand New Day (BND). Hopefully this will usher in a new era in Peter Parker's life called "New Other Moment. Not One Moment Now Omitted Momentarily" (NOMNOMNOM).
Kill Shakespeare 5 (IDW): Hamlet strikes out on his own against the Bard in this series about Shakespeare's creations on the revolt.
Lucid 1 (Archaia): Zachary Quinto and Michael McMillian of True Blood fame deliver this intriguing tale of American combat mages. You can read our review of the book here.
The Sixth Gun 4 (Oni Press): Cullen Bunn and Brian Hurtt's tale of mysterious firearms, undead generals, and angry Thunderbirds has been getting some good buzz and is a welcome edition to the Weird West comic pantheon. You can read a preview here.
Invaders Now 1 (Marvel): Alex Ross and Christos Gage bring back the Invaders, Marvel's premiere World War II Nazi-bashing team, for a new five-issue miniseries.
In the graphic novel department, there's Dr. Horrible And Other Horrible Stories trade paperback (Dark Horse), which collects the Zack Whedon Dr. Horrible tales plus the never-seen before meeting of the Evil League of Evil. Supernatural: Beginning's End (DC/Wildstorm) collects the third comic volume of the Winchester's adventures. Mark Millar and Steve McNiven's Old Man Logan (Marvel) makes its debut on trade paperback today. Apparently Clint Eastwood opted out of playing Superman — with this book, there's still a chance he can play Wolverine.


Also, the 10-year anniversary UDON anthology Vent collects the artwork and of the studio that reinvigorated the Street Fighter franchise and left their manga-esque imprimatur on Taskmaster and Deadpool. Also, The Simon & Kirby: Library Superheroes hardcover (Titan) collects the lost adventures of Simon and Kirby's superheroes not named Steve Rogers. Kevin Huizenga, whose indie titles Curses and Or Else garnered plenty o' critical acclaim, releases Wild Kingdom, a meditation on science and mysticism starring his everyman Glenn Ganges — here's a preview.

The final volume of Brian K. Vaughan's tenure on Runaways , Live Fast (Marvel) hits the stands, as does the collected edition of Spider-Man: Fever (Marvel) by Brendan McCarthy. I've heaped enough praise on McCarthy's work on this book, but it's worth mentioning again — this book is a gorgeously illustrated Silver Age acid trip that guest-stars Doctor Strange and ravenous arachnid demons. It's got the artistic chops befitting your coffee table, and the story wouldn't be out of place in the halcyon era of Hostess Pie ads.
As usual, you can find a list of this week's releases here and the location of your friendly neighborhood comic shop here. Happy reading, gang!