Fifty years ago on April 12, Yuri Gagarin became the first person in space. Every year, you can celebrate his achievement on Yuri's Night, and now you can dream of Yuri with Luno, a crazily cute lunar rover toy.
But first you have to help fund the toymaker, Sergey Safonov. He's trying to raise $4,000 on Kickstarter to fund the production of a small line of Lunos - your donation will get you a Luno, plus more cool toys and concept art from Safonov.
Here's what he has to say:
Luno is both an art sculpture and a toy for painting and playing. It is designed with storytelling in mind. We hope to fund this project on April 12th and commemorate the 50th anniversary of [Yuri's flight].

Click to view Luno the Moon Rover is about 5 inches in diameter with three spinning wheels. Mini Luno is about 3 inches in diameter. Both sizes of Luno will be made of hand-cast resin and painted glossy white.
Safonov has a special relationship with Yuri's Night:
Sergey Safonov dreamed of space travel all throughout his childhood in Russia. As a kid, Sergey was surrounded with space memorabilia: He had tons of space related-books and magazines, space food (tiny bricks of bread and space tubes) and April 12th was a family holiday. The only problem Sergey had with space toys was that all of them were replicas of spaceships and mechanisms, and he was looking for characters with which to play and tell stories. Now Sergey Safonov is grown up with a young son of his own, so he is trying to create his own space character: Luno the Moon Rover.

Sergey has been creating characters and producing original, hand-made toys for many years. His work has appeared in the books Dot Dot Dash and Art-Toys and the magazine, Design Bureau. He is currently working on a picture book about his characters, the Gooma. The following photos are several of Sergey's original resin toys. They are available as part of one of the reward options for people who pledge to help produce Luno the Moon Rover.
G/O Media may get a commission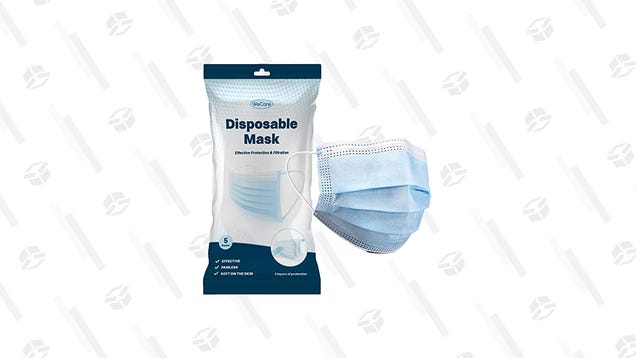 WeCare Disposable Masks With Elastic Earloops- 5 Pack
The toys will be produced by Hong Kong company Crazy Label! Won't you donate a little money to make this cool toy come true?
Do you want io9 to help raise awareness about your crowdfunded toy, movie, web series, TV show, comic, book, or game? Write to us and tell us about your project at tips@io9.com with the subject line "crowdfund this."