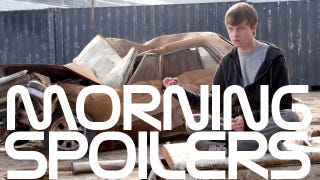 Morning Spoilers
If there's news about upcoming movies and television you're not supposed to know, you'll find it in here.
The Robocop reboot finds a writer. Man of Steel casts another version of Clark Kent. Check out new images from The Hunger Games and John Carter. Plus get the last word from the stars and director of Chronicle!
Spoilers from here on out!
Top image from Chronicle.
Man of Steel
11-year-old actor Cooper Timberline is now confirmed to be playing the pre-teen Clark Kent in the film. Just to keep all the young actors straight, the slightly older Dylan Sprayberry is playing the 13-year-old Clark. [Style Weekly]
---
The Hunger Games
Here's a new promo photo of Lenny Kravitz as the stylist Cinna and Jennifer Lawrence as Katniss Everdeen. Here's how Kravitz describes Cinna:
"He's very streamlined, he's very quiet. He knows what he's doing. He's confident. He's got a big heart. I just liked the way he moved – very smooth."
---
Robocop
Jose Padilha, the Brazilian director of the Elite Squad films, has reportedly found a new screenwriter for his reboot of Paul Verhoeven's Robocop. Gran Torino writer Nick Schenk, who also worked on the as yet unmade action thriller Tri-Border with Padilha, is now reportedly working on the script. [Heat Vision]
---
Chronicle
Here's one more teaser for found footage film in which three teenagers get superpowers.

The Wire actor Michael B. Jordan discusses how he and the rest of the cast approached the film and whether they took inspiration from comic books:
I think so, yeah, though the movie is very grounded in reality. It's kind of an origin story, but there are no tights, no capes, no masks, none of that stuff. It's about real kids, and what they would do if they actually had superpowers. I know Akira really influenced [director] Josh [Trank], and there are a lot of similarities between the two. But it's such an original take; it kind of reminds me of Unbreakable in the way it plays on the idea of superheroes, and that you don't have to be a bad guy and do malicious things to be the villain. It depends on the person, at their core. Andrew had a tough upbringing, a rough life at home, so if you give power to somebody who is powerless, sometimes they don't know how to express themselves. He doesn't know who he is, so that leads him to make some bad decisions. It doesn't mean that he's the "villain," and there's no "good guy" in the movie either.

It's just about kids spiraling out of control, the way I think it would happen in reality. If I got powers, I would probably start off on a small scale, testing them out, trying to figure out just exactly what they were. I would probably try to mess around with some girls [laughs]… I might do that. But without somebody being grounded and reeling us back in, it might get out of hand.
There's some more at the link. [Fangoria]
And here's an 11-minute interview with the cast and director Josh Trank.

---
1,000 A.E.
M. Night Shyamalan's latest, which stars Will and Jaden Smith as father and son warriors searching for each other on a charred post-apocalyptic version of Earth, is set to begin filming February 6 in Costa Rica. [Shadow and Act]
---
Deadpool
Ryan Reynolds says he's still optimistic about reprising his X-Men Origins: Wolverine role, but it sounds like he doesn't want to compromise what's unique about Deadpool:
"The script is there [for 'Deadpool'], everything just comes down to budget and time. If it comes together the way it should, which is rated R and a little bit outside of the box, then yeah, for sure."
---
Dark Shadows
Casino Royale star Eva Green discusses her role as Angelique Brouchard, the vampire who bites Johnny Depp's Barnabas Collins and buries him alive out of revenge for breaking her heart, in Tim Burton's update of the 1970s supernatural soap opera:
"I think it's very, very funny, with a dark sense of humor, but really funny. And I play Angelique Bouchard, and she's a cuckoo character. An extreme character, who is madly obsessed with Baranabas Collins, and it's a very electric relationship. And she wants to own every bit of Barnabas. It's not a typical villain, and that's what I like about how Tim dealt with her. She has a good reason to act like that. It's a really a love story."
---
R.I.P.D.
Ryan Reynolds offers high praise for this film in which he and Jeff Bridges play dead cops patrolling the afterlife:
"[You'll be] pretty blown away by that one. It's an incredible film. That was a movie I'd been courting for something like five years now. To see that actually happen — that never happens! It never happens that a movie you've been courting for that long actually ends up being shot and produced. It was a beautiful experience. I know that's going to be an amazing movie."
---
Skyfall
Here's a rather grizzled promo image of Daniel Craig in the latest James Bond movie. [E! Online]
---
Extracted
This low-budget sci-fi thriller starring Sasha Roiz, whose genre credits include Capricaand Grimm, is set to premiere at Austin's South by Southwest Festival (or just SXSW) in March. Here's the trailer and official synopsis. [Caprica TV]

Thomas Jacobs is a brilliant engineer who invents a device that enables him to enter the mind of a patient and observe them in their memories. Having run out of funds to complete the project, he reluctantly partners with the Justice Department who plans to use it to see criminals enact their crimes, BUT, during the first test on a convict, Tom gets trapped, leaving behind a pregnant wife and his unconscious body. For four years Tom is stuck in the criminal's mind, until he discovers a glitch in the system. It soon becomes a race for survival, as Tom is forced to work with the reluctant criminal to find a way out.
---
Me and My Shadow
Dreamworks has just announced this new animated films set for a November 13, 2013 release date. Directed by How to Train Your Dragon head of story Alessandro Carlonia and written by Get Smart's Tom J. Astle and Matt Ember, the film features the voices of Saturday Night Live's Bill Hader, The Book of Mormon's Josh Gad, and Almost Famous actress Kate Hudson. Here's the synopsis, which posits a world of intelligent shadows:
Me & My Shadow reveals the once secret world of shadows and their human counterparts. Stan, our hero's shadow, yearns for a more exciting life but happens to be stuck with Stanley Grubb, a timid guy with an extreme aversion to adventure. When a crime in the shadow world puts both of their lives in danger, Stan is forced to take control of Stanley. They go on a madcap adventure to investigate the crime and stop the shadow villain from leading a rebellion where shadows take over the human world. During this adventure, Stan empowers Stanley to let go of his fears and embrace life. Through their adventure, they both learn that one cannot be whole without a true friend.
[IGN]
---
Wer
The Devil Inside director William Brent Bell is reportedly working on this found footage film about werewolves, from a script co-written by Bell and his Devil Inside screenwriter Matthew Peterman. The film will start shooting in Romania in April. [ShockTillYouDrop]
---
Justice League: Doom
Here's a clip from DC's latest animated direct to DVD movie, featuring a ton of original DCAU alums - including Kevin Conroy and Tim Daly as Batman and Superman - plus Nathan Fillion as Hal Jordan.

---
Fringe
Here's a bunch of promo photos for tomorrow night's episode, "Making Angels." [SpoilerTV]
Here are brief synopses for all the episodes airing in February:
Friday, Feb. 3: "Making Angels"
Our Astrid (Jasika Nicole) gets an unexpected visit from her Alternate, while Peter (Joshua Jackson) and Olivia (Anna Torv) track a killer using a toxin that has yet to be invented. Both universes collide in a case that pushes the boundaries of what is possible.

Friday, Feb. 10: "Welcome to Westfield"
Peter, Olivia and Walter (John Noble) come face-to-face with a mysterious and terrifying Fringe event as they get trapped in a town from which there's no escape.

Friday, Feb. 17: "A Better Human Being"
As the Fringe team investigates a mentally ill patient (guest star Harrison Thomas) who appears to be connected to a series of murders, frightening clues and connections are uncovered that lead Olivia to some shocking revelations.

Friday, Feb. 24" "The End of All Things"
Peter and the Fringe team take extraordinary measures in an attempt to stop life-threatening events.
---
Star Wars: Underworld
There's an absolutely psychotic rumor flying about this proposed 50-episode live-action TV series, which almost certainly won't happen for at least five years because it's just too expensive to make with current technology. Still, according to George Lucas and producer Rick McCallum, the scripts are all more or less written, which opens the door for some truly insane spoilers on their supposed content.
According to an inside source — one that is apparently "unproven" but has "reasonable context" — an early episode will feature "a group of bandits acquiring the capability of time travel, and using it to travel back in time to stop Darth Vader from ever existing", which I suppose either means stopping Anakin Skywalker from being born or, perhaps more likely based on the wording, even turning to the Dark Side and becoming Darth Vader.
Presumably this would mean undoing the events of A New Hope, The Empire Strikes Back, and Return of the Jedi — in other words, one of the first acts of this new TV series would be to erase from existence the part of the franchise that everybody still actually likes. (OK...now I'm starting to believe it.) Of course, if this is just a single-episode plot that ultimately gets undone, it becomes much more believable, but even then it seems to conflict with Lucas and McCallum's statement that this show will be staying away from the Skywalkers and the specific events of the film franchise. So, yeah...take this all with a Kessel Run's worth of salt, I'd say. [/Film]
---
Alcatraz
Here are descriptions for all the episodes airing in February:
Monday, Feb. 6: "Guy Hastings"
Guy Hastings (guest star Jim Parrack), an Alcatraz guard, reappears. Although a good man, Hastings is being asked to do bad things and will come face-to-face with an old acquaintance.

Monday, Feb. 13: "Paxton Petty"
When our unlikely trio of Madsen (Sarah Jones), Doc (Jorge Garcia) and Hauser (Sam Neill) tracks former inmate Paxton Petty (guest star James Pizzinato), a sick landmine bomber who has returned only to place bombs throughout populated areas of San Francisco, methods of the past are applied to the present.

Monday, Feb. 20: "Johnny McKee"
Madsen and Hauser hunt down Johnny McKee (guest star Adam Rothenberg), a former Alcatraz inmate and vicious killer with a background in chemistry. It's a race against time before McKee horrifically poisons more innocent victims. Meanwhile, more details emerge about Madsen's grandfather.

Monday, Feb. 27: "Clarence Montgomery"
Clarence Montgomery (guest star Mahershala Ali), the only innocent man in Alcatraz, returns to present day, but is now committing crimes. Why?
---
Once Upon a Time
It looks like the show's creative team is feeling pretty confident about a second season pickup — and given the show's ratings, there isn't much reason not to be — as they have reportedly cast their first guest star for season two. Black Swan and Hoosiers actress Barbara Hershey is reportedly set to make one guest appearance this season as the Evil Queen's mother, which she will then reprise for three episodes in season two. [EW]
---
Supernatural
Rachel Miner is reportedly set to reprise her role as the demon Meg Masters, who last appeared back in the season six episode "Caged Heat," alongside Castiel. It's possible but unconfirmed that she might make her return appearance when Castiel makes his own return in episode seventeen. [TV Line]
---
The Vampire Diaries
Here's an extended promo for tonight's episode, "Dangerous Liaisons."

---
Lost Girl
Here's a list of spoilery tidbits for what lies ahead in the rest of season two:
* War
* Prophecy/ Bo's destiny further addressed
* Very serious injuries for those close to Bo
* Major DeathS
* At least two MAJOR Betrayals
You can read the rest at the link. [SpoilerTV]
---
Additional reporting by Ben Vrignon and Charlie Jane Anders.