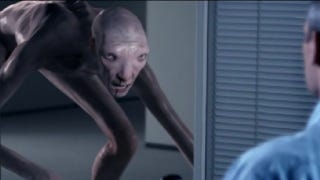 Stop whatever it is you're doing right now and plug into this amazing new short film The Gate. The CG creatures are horrifying, mesmerizing, and should really be the high water mark for all computer-animated beasties. Plus, fairy genocide!
The Gate
Quiet Earth has the exclusive look at a gorgeous parade of freaks in The Gate, which is written and directed by Matt Westrup and produced by Spencer Friend. This is the real deal my friends. Watch the mutant-meat-sack party now, now, NOW!
95% of the human genome is composed of redundant gene sequences. They appear to have no known biological function. Could a chance event reactivate them?
Painted Skin 2
Next up is a collection of glorious concept art from Wuershan (The Butcher, the Chef, and the Swordsman). According to Twitch Film, this is (clearly) a sequel to Gordon Chan's Painted Skin and has been filming all across the globe for months. Zhou Xun will be reprising her role as Xiao Wei. The original movie followed two myth spirits who liked to eat the hearts (and skins) of their victims/lovers to stay young. The art for the sequel is gorgeous — hope the movie lives up to the look.

Moving Day
Oh dear, this is a cute little short from Jason Wingrove. We're glad we're not the only folks out there who have always wanted to see a flamethrower murdering a bunch of fairies.