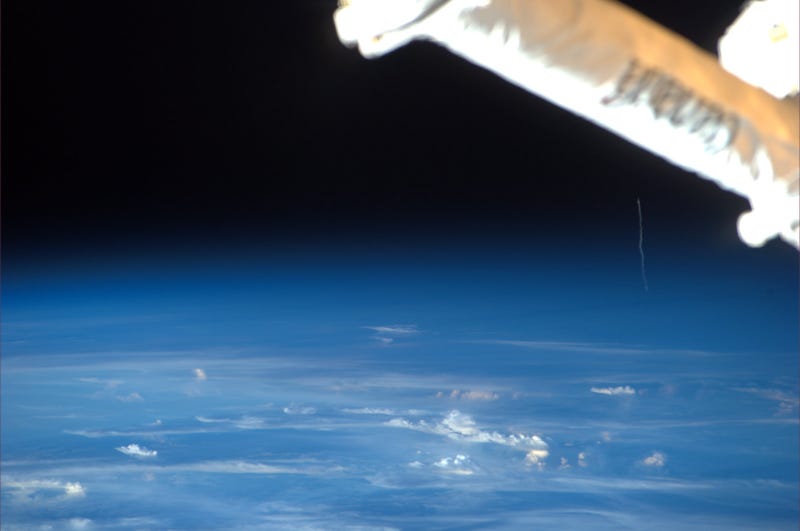 Have you ever seen a space launch from orbit ?
Check out the spectacular launch photo of the Johannes Kepler ATV streaking skyward atop an Ariane 5 rocket as captured by astronaut Paolo Nespoli from his unparalleled vantage point looking out the windows aboard the International Space Station (ISS), in orbit some 350 km above Earth.
The launch photo shows the rising exhaust trail from the rocket just minutes after blast off of the Ariane booster on Feb. 16 from the ESA rocket base in Kourou, French Guiana, South America. The rocket was still on a vertical ascent trajectory to orbit.
The photo vividly illustrates the maturity of the European space effort since the launch base, Ariane booster rocket, Kepler payload and astronaut Nespoli all stem from Europe and are crucial to the future life of the ISS.
Ariane 5 rocket at the Launch pad at Europe's Spaceport in Kourou, French Guiana with Johannes Kepler ATV Kepler is set to dock at the ISS on Feb. 24 and an on time arrival is essential because of an impending orbital traffic jam.
Space Shuttle Discovery is due to link up with the ISS just six hous after Kepler if the orbiter launches according to schedule on Feb. 22.
Everything is nominal with Kepler's spacecraft systems and orbital performance at this time say European Space Agency (ESA) officials, including the deployment of ATV's four large solar wings.
The ATV, or Automated Transfer Vehicle, is a European built resupply vessel designed to transport essential cargo and provisions to the ISS. It is Europe's contribution to stocking up the ISS.
Kepler is carrying more than seven metric tons of supplies and cargo for the ISS and will be used to reboost the outpost to a higher orbit during its planned four month mission.
"ATV is a truly European spacecraft. Flying it requires experts from ESA, partner agencies and industry across half a dozen countries," said ESA's Bob Chesson, Head of the Human Spaceflight Operations Department.
"Getting it built, into orbit and operating it in flight to docking requires a lot of hard work and dedication from hundreds of people."
The ATV is named after Johannes Kepler (1571-1630), the German astronomer and mathematician who is best known for discovering the laws of planetary motion. NASA also named its powerful new planet hunting space telescope after Kepler, which recently discovered the first earth sized planets orbiting inside the habitable zone.
After the shuttle is forcibly retired later this year in 2011, the very survival and continued use of the ISS will be completely dependent on a steady train of cargo and payloads lofted by unmanned resupply vessels including the ATV from Europe, HTV from Japan, Progress from Russia and commercial carriers such as SpaceX and Orbital Sciences.
Top Photo: This remarkable photo was taken by ESA astronaut Paolo Nespoli from the ISS on 16 February 2011, just minutes after ATV Johannes Kepler lifted off on board an Ariane 5 from Kourou at 22:50 UTC. It shows the rising exhaust trail of Ariane, still in its initial vertical trajectory. The trail can be seen as a thin streak framed just beneath the Station's remote manipulator arm. Credits: ESA/ NASA.
This post originally appeared on Universe Today.