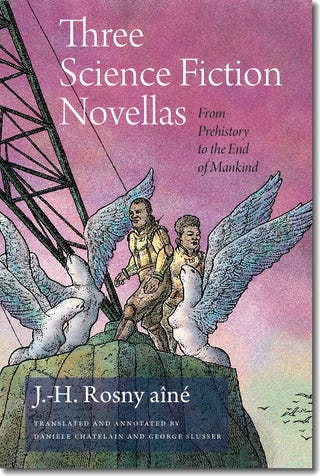 J.-H. Rosny aîné is one of the most important French science fiction authors, but he's best known in the United States for writing the 1911 novel that became the movie Quest for Fire. Now, at last, three of his novellas have been translated into English and collected into one volume by Wesleyan University press, and they take us from the dawn of humanity to the end of the world.
One story involves primitive cave people encountering weird creatures — bluish, translucent cones — which have strange, almost magical powers. The second story narrates the early life of a young mutant, in a world that also features strange, almost godlike creatures. And then the third story takes place in the far future, after life is almost extinguished on Earth except for a few lingering humans — and weird creatures called the ferromagnetics.
Over in the Washington Post, Michael Dirda praises the beauty and audacity of Rosny's writing:
Never having encountered any of his fiction, I was unprepared for the power and beauty of "The Xipehuz," "Another World" and "The Death of the Earth." There's nothing hokey or dated about these startling visions of Otherness, although they were first published more than a century ago. You won't read better science-fiction stories - or even better stories - this year... These brilliant works by Rosny underscore how often American readers - and I include myself - simply neglect the artistically ambitious and exceptionally entertaining science fiction written in languages other than English.