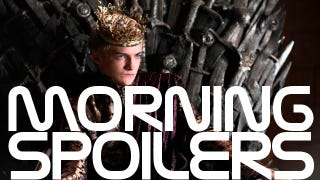 Morning Spoilers
If there's news about upcoming movies and television you're not supposed to know, you'll find it in here.
Hugh Jackman continues to look fearlessly scruffy in a set video for The Wolverine. Catching Fire adds a Peacekeeper to its cast. Game of Thrones and True Blood are sticking around for a good long while. Plus new Skyfall photos!
Spoilers from here on out!
Top image from Game of Thrones.
The Wolverine
Here's a set video of Hugh Jackman's scruffy new look for Wolverine, which we saw the other day, which likely ties in with the movie's flashbacks to a World War II POW camp. I'd advise muting the obnoxious narration before watching the video. [IGN]

---
Man of Steel
Producer Christopher Nolan offers this small tease for the new Superman movie:
"I don't want to say too much about it because they're a long way out. They're at the beginning of the process, really. It doesn't come out for another year. But I think what Zack [Snyder] and Henry [Cavill] are doing with the character is going to make a remarkable impression."
---
Thor: The Dark World
And on the topic of people discussing upcoming superhero films without really saying much of anything, here's Loki actor Tom Hiddleston:
"I don't want to give too much away. But I can guarantee that you won't be disappointed. [Director] Alan Taylor's vision of Thor 2 is utterly brilliant. The journey continues in the most epic dimension and proportion imaginable. It's very, very exciting."
---
Catching Fire
Sons of Anarchy and Super 8 actor Patrick St. Esprit has reportedly been cast as Romulus Thread, the Chief Peacekeeper of District 12, in the Hunger Games sequel. [Variety]
---
The Hobbit
Here's a look at a very slightly alternate trailer. Check out the link for a list of the couple of pieces of new footage contained therein. [The One Ring]

Director Peter Jackson discusses whether his now three-part adaptation will reflect the lighter, somewhat less adult tone of J.R.R. Tolkien's novel compared to the later Lord of the Rings:
"I do want to make these movies run together, so if any crazy lunatic wants to watch them all in a row, there will be a consistency of tone. I don't want to make a purely children's story followed by The Lord of the Rings. We are providing a balance. A lot of the comedy and the charm of The Hobbit comes from the characters. You are dealing with Bilbo Baggins, who is a little more reluctant to go on an adventure than Frodo was. Dealing with Dwarves, who have a personality and a camaraderie all their own... there's a lot of humor and a light touch to be gained from those characters... But there are still some serious themes involved. Hopefully the Hobbit films will comfortably straddle both worlds."
---
Kick-Ass 2
Comics artist John Romita, Jr. discusses how the movie uses his and Mark Millar's source material:
"As far as I know, the Hit-Girl comic is actually the beginning of the film. Kick-Ass 2 is the second half of the film. It's an interesting thing that occurred. The filming got pushed back due to contracts and the actors not being ready, so it worked out well that way, allowing me more time to get the comics finished. So as soon as Mark Millar and Jeff Wadlow had discussed what they wanted to do, we got to the point where the Hit-Girl story would be the beginning of the film. Now it's just up to me to get things done as quickly as possible. The director has Mark's synopsis already with pretty good detail –- not a script per se, but a detailed synopsis so he knows what's going to happen. There's a screenplay already, so having the series done far enough in advance for the director to use some of it, all of it, none of it… but for him to have a choice, is the ultimate goal and I'm just going to try and get the Hit-Girl series done as soon as possible."
He also says filming should start in September, and it's unclear whether the sequel will feature an animated sequence like the original did. [SFX]
---
Skyfall
Here are some new promo photos of Daniel Craig's third James Bond movie, taken from the latest issue of Entertainment Weekly. [The Playlist]
---
Sin City: A Dame to Kill For
Mickey Rourke is reportedly in talks to reprise his role as Marv, which presumably means the movie will feature flashbacks to before his story in the first movie, what with it ending with him getting the electric chair and all. Although this is Marv (and Mickey Rourke) we're talking about, so better not rule out anything until we know more. [Deadline]
---
Only Lovers Left Alive
Tom Hiddleston offers this update on Broken Flowers director Jim Jarmusch's latest, which the director has described as a "crypto-vampire love story":
I'm playing a fascinating character, quite unlike anything I've done before. And I'm working with Tilda Swinton, Mia Wasikowska, Anton Yelchin and John Hurt, who are all extraordinary, and we've shot in Detroit and Tangiers. So that's my summer. Then onto Thor 2. Who knows after that.
---
Doctor Who
Here's a new, shorter version of the recently released trailer for the first half of series seven. [Life, Doctor Who, and Combom]

Now that Withnail & I's Richard E. Grant has been confirmed as the main guest star for this year's Christmas special, we can move onto the rest of the cast. The other confirmed guest actor is Tom Ward, who is best known for playing Dr. Harry Cunningham on Silent Witness. There are still no details on who either Grant or Ward are playing. [BBC]
---
Fringe
Showrunner Josh Wyman promises the fifth and final season will offer a more or less definitive conclusion:
I'm not interested in leaving it open-ended. That would just cause me frustration. I wouldn't be satisfied. What's really cool about Fringe, and one of the things we did do right, was that the way we chose to tell the story was that, with every season, there was a closure and then a new chapter. That allowed us to actually make the closure. And then, if we really wanted to, we could open it up again. One thing Fringe has is no shortage of ideas. There are so many jumping off points that we could use and have thought about. I just wouldn't want to pull a trick like that on the viewers. I really want to reward them. I honestly and sincerely feel that it's the most miraculous fan base I've ever seen, so I just want to make sure I use every fiber of my body to deliver for them what I think is going to be satisfying for their loyalty.

Could you have saved the world at the end of last season, if you had to?
What's a hero, if not for its journey. I think you're going to recontextualize what saving the world means, and I think that you will be satisfied with the stakes. That's all I can say about that.
He also explains why 2036 was chosen as the show's new setting, and it all has to do with Peter and Olivia's daughter:
We just figured that it would be a good age for Etta to be a part of the Fringe division. How cool is it for a woman to dedicate her life to finding her parents, who may or may not be dead? She's believed in this lore that her parents are these famous Fringe fighters that just went missing. Some people say they're in Peru, and some people say they're dead. I just was really intoxicated with that whole concept, as we all were. We just thought that was the right time 'cause she could be old enough to have made an impact in her own life, becoming a Fringe division agent, working for the underground. Her history was fascinating to us. What happened to her? Where did she go? Who raised her? When did she decide that she wanted to be in the Fringe division? Did she just use it as an apparatus to be able to find her parents? All these questions are really cool and provided us with a lot of push-off points.
There's a bunch more at the link, including the promise of some major, top-secret guest stars. [Collider]
---
Game of Thrones
HBO executive Richard Plepler promises the show is committed to adapting all of George R.R. Martin's books, including the ones that haven't quite been written yet:
Well, as long as George keeps writing, we'll keep producing, and he seems very excited with that proposition. As long as he sees fit to keep creating, so will we.
That's nice to hear, although of course it should be pointed out the show is still only renewed on a season-by-season basis, so things could change between now and eight seasons from now. [Collider]
---
True Blood
From the same interview, fellow HBO executive Michael Lombardo is similarly optimistic about the long-term future of their other big genre show:
And I think with True Blood, the show's obviously doing well. This coming year will be the first year Alan Ball is taking a little bit of a step back, but creatively, they're still engaged and excited by the storytelling. As long as it continues to be performing with the consumer and, more importantly, exciting the storytellers, I think we're there.
[Collider]
Here's the trailer for the final three episodes of the season, which appears to show a brief glimpse of Jason Stackhouse either dead or — considering he's in Jessica's arms — about to be turned into a vampire. Check out the link for some additional context and speculation on what might be ahead for Jason. [TV Guide]

---
Revolution
Here's a new extended preview for NBC's new show in which energy doesn't exist anymore or something. I don't know, I've kind of given up on trying to encapsulate this show's premise, so I'm turning the job over to the video.

Here are some promo photos of Lost's Elizabeth Mitchell, who has taken over the predominately flashback-driven role of the teen protagonists' mother, which was played by another actor in the unaired pilot. [TV Line]
Here are some other new promo photos. [SpoilerTV]
---
Falling Skies
Here are some promo photos from the next episode, "The Price of Greatness", guest starring Lost alum Terry O'Quinn. A synopsis of the episode is below [KSiteTV]
The 2nd Mass meets new faces, while Tom comes across his former mentor and professor Arthur Manchester (guest star Terry O'Quinn). But it's difficult to know whom to trust. Maggie begins to realize that Pope may not be sticking with the group very long. Tector embraces his military past.
---
Additional reporting by Rob H. Dawson and Charlie Jane Anders.