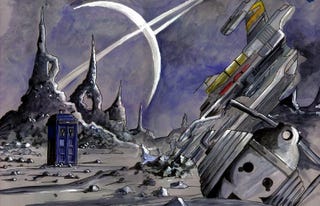 There's been talk about a Doctor Who movie for years, including the idea that former star David Tennant could come back to play the time-traveling eccentric on the big screen. But now, Variety reports that there's a Who movie in development for real — and it won't be connected in any way to the current series.
Top image via BBC.
David Yates, who directed the last four Harry Potter movies, is working on creating a big-screen Doctor Who movie, and he says he wants to strip the concept down to its basic elements. And it sounds as though none of the castmembers or concepts from the past seven years would be part of Yates' vision. Yates tells Variety:
It needs quite a radical transformation to take it into the bigger arena. ... The notion of the time-travelling Time Lord is such a strong one, because you can express story and drama in any dimension or time... Russell T. Davies and then Steven Moffat have done their own transformations, which were fantastic, but we have to put that aside and start from scratch.
It sounds like any movie is at least a few years away.
This is clearly a good thing — Yates has a great pedigree, and stripping Doctor Who down to its basic elements and reinventing the premise from scratch is what the actual TV show has done over and over again. If we get to have an ongoing TV show as well as a successful movie series, then we win. (And I absolutely think Yates should cast a new actor as the Doctor, as part of putting his own stamp on the universe.) [via Blastr]