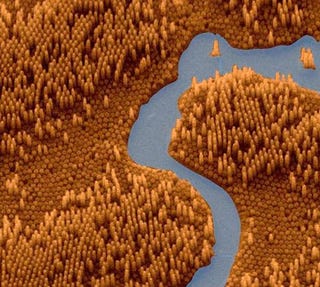 It looks like an alien city on the edge of a canal. But this is actually just a few microns across — it's a scanning electron microscope image by Fatih Buyukserin. What you're seeing are polymers stuck to a silicon mold full of beehive-like cells. This nano-city even has its own flowers made of wire.
These "sunflowers" are actually nanowires arranged in a naturally-occurring pattern.
Wired's Aaron Rowe writes:
When S.K. Hark, a professor at the Chinese University of Hong Kong, looked at some [nanowires] under a scanning electron microscope, he saw flowers. Unlike plants, their fertilizers were gallium and gold catalysts — which allowed them to grow to several microns in length while maintaining a roughly 10-nanometer diameter.
You can see more nanoart in Wired's gallery of the Materials Research Society picture winners. [Wired]