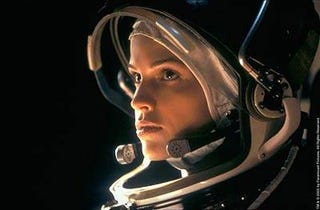 We were just getting excited for Louis Leterrier's G, in which the Earth stops spinning and gravity stops. And now there's another great take on the burgeoning "rotational disaster" subgenre.
(Update: To be clear, the "Earth stops spinning and gravity stops" thing is the premise of Louis Leterrier's movie. The novel we're discussing here is just one in which the Earth's rotation slows down and this causes disasters.)
According to Publishers Marketplace, this is the next big thing:
Simon & Schuster editor and Columbia MFA grad Karen Thompson Walker's debut novel THE AGE OF MIRACLES, about an eleven-year-old girl and her family who wake one morning in their modest suburban home in California, to discover, along with the rest of the world, that the rotation of the earth has suddenly begun to slow, setting a suspenseful family drama of the lows and highs of a girl's adolescence and a poignant story of first love against this looming global disaster, to Kate Medina at Random House, in a major deal, said to be low seven-figures, in a pre-empt, for publication in 2012, by Eric Simonoff at William Morris Endeavor (US).
It almost sounds like a literary take on The Core. Maybe they can get Hilary Swank to come back and star in the movie adaptation of this version, so she can redeem herself from her one science fiction bomb?