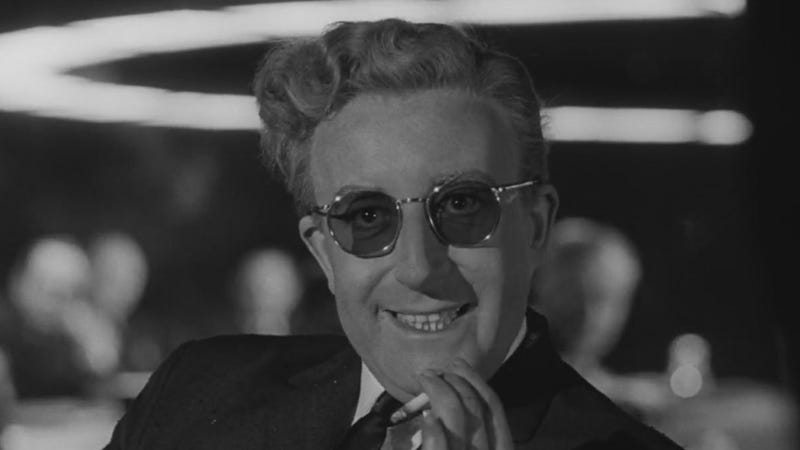 From the notebooks of Stanley Kubrick comes this most excellent list of movie titles that never saw the light of day, but were evidently considered for the film that Kubrick would eventually name Dr. Strangelove or: How I Learned to Stop Worrying and Love the Bomb.
There are plenty of mentions of Dr. Strangelove, bombs, and even implications that one should love and cherish said "wonderful bomb," but you won't find the final title in this list. Still, it gives one pause to think how this movie would have been received had Kubrick settled on the decidedly tantalizing title of Dr. Strangelove's Secret Uses of Uranus.
Doctor Doomsday
Don't Knock the Bomb
Dr. Doomsday and his Nuclear Wiseman
Dr. Doomsday Meets Ingrid Strangelove
Dr. Doomsday or: How to Start World War III Without Even Trying
Dr. Strangelove's Bomb
Dr. Strangelove's Secret Uses of Uranus
My Bomb, Your Bomb
Save The Bomb
Strangelove: Nuclear Wiseman
The Bomb and Dr. Strangelove or: How to be Afraid 24hrs a Day
The Bomb of Bombs
The Doomsday Machine
The Passion of Dr. Strangelove
Wonderful Bomb
This transcript of legible title candidates comes courtesy of Lists of Note; the notebook scan itself is via The Stanley Kubrick Archives.