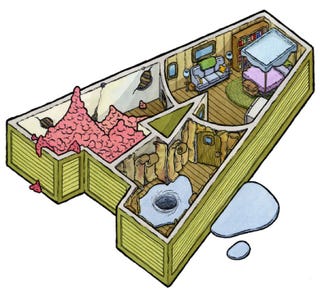 Artist Scott Teplin has made a career out of drawing strangely-altered, Sims-esque rooms and houses like this one. The "A" above is from his Alphabet series, and you can see the whole sprawling set of interconnected letters here, done in ink. This part of the house features a cozy bedroom, a room with a swirling vortex of doom in it, and a giant alien spore. But it's entirely possible that the spore just wants to be buddies, and not kill you. Hell, it could even be his bedroom for all we know. Find out more about this architect of the obscure below.
Teplin's work has the intricate quality that you'd normally associate with who has obsession, but it's a beautiful obsession indeed. Just look at the miniature details he puts into some of his larger drawings like "Aqueduct", which features a tankful of locked-up waves. There's a similar amount of manic focus in his series of rooms, many of which are made up of words like "Gracious." There's even a build of his "Creepy Peepers" piece in Second Life, and his Heavy Water show in Paris last year featured his enormous rooms/fantasy homes. If you're in New York, you can check some of them out, including the huge 30 room piece "One Story" at the Adam Baumgold Gallery.
If we had an unlimited budget, we'd be hiring him to design an alphabet-shaped io9 building that had blogging chambers, viewports, and vault-doors for our bedrooms. Check out more of Scott's inner architectural fantasies on his website.