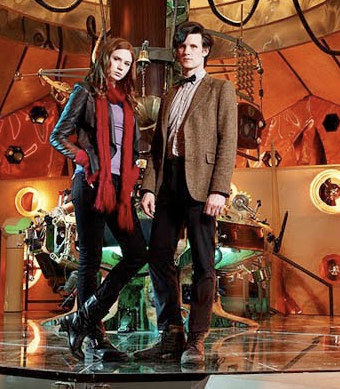 Neil Gaiman recently posted a deleted scene from the Doctor Who script he's written for next season. In this vignette, the Doctor and Amy investigate a mysterious world...of flavor!
Gaiman hasn't dropped when exactly the episode will air, but we do know he's been assiduously rewriting it for next season. Here's the scene:
AMY
Is it something people can eat?
(to Doctor)
Shouldn't you scan it with your screwdriver or something?

THE DOCTOR
Why would I scan food with my screwdriver?

AMY
See if it's safe?

The Doctor leans over, dips his finger into his bowl, tastes it.

THE DOCTOR
Some unusual trace elements, smidge too much background radiation, but, yeah, very yummy.

Amy is about to try some of his food... he stops her.

THE DOCTOR (cont'd)
No. Don't put it in your mouth.

AMY
Not for humans?

THE DOCTOR
Not for you. Tastes like Marmite on socks.
[Spotted on Bleeding Cool. Also, thanks Bluehinter!]