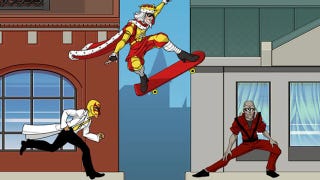 Looking for a few projects to fund this week? We've got some intriguing projects still searching for some generous patrons: a video game based on The Adventures of Dr. McNinja, an album filled with Star Trek jazz covers, a collection of racially diverse fantasy artwork, and a Grimm Fairy Tale animated series, with Lena Headey in the starring role.
Dr. McNinja's Radical Adventures!: If you haven't read Chris Hastings' incredible webcomic The Adventures of Dr. McNinja, go read it, then come back in a week or so. (Seriously, go read, if only for the Raptor Banditos.) Now Hastings and Fat Cat Games are brining the Irish ninja physician's adventures to video game life. The game will be free to play, but some of the playable content will be locked until you accumulate enough "Shamrock Points." For a $5 pledge, you receive 10,000 Shamrock Points. For $25, you receive 100,000 and the option of playing through the game as Dr. McLuchador.
Grimm Fairy Tales Animated Series: Long before the most recent recent fairy tale boom started, Zenescope Entertainment was publishing its cheesecake horror comic book Grimm Fairy Tales, and now it wants to turn those truly grim stories into an animated series. Titmouse Animation is working with Zenescope to create a series, with Terminator: TSCC and Game of Thrones actress Lena Headey voicing the main character Sela Mathers. For a $15 pledge, you'll get a digital download of the series; for $30, you'll receive a DVD and a few other Grimm goodies.
Prismatic Art Collection: While some people are calling for greater diversity in fantasy artwork, this group of artists is doing something about it. The Prismatic Art Collection will be a free library of Creative Commons-licensed artwork featuring fantasy characters with a variety of racial and ethnic influences. Many of the lower level rewards have sold out, but for $5 you'll receive a thank-you on the site, and for $100, you can have your character concept interpreted by fantasy artist Jared von Hindman. They're also looking for more artists to join in on the project.
Smooth Federation: An all-jazz Star Trek tribute album: Commander Riker would be proud. Musician Andrew Allen has recorded an album's worth of jazz covers of music from all the Star Trek series and movies. Now he just needs some help getting the songs mastered licensed. For a $10 pledge, you receive a digital copy of the album. For $12, you get a CD shipped anywhere in the US.