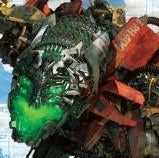 You all remember the big Constructicon-created Transformer from the Revenge Of The Fallen trailer that made Optimus Prime look like a toddler? Well, here's a better look at the massive beastie bot.
ACToys has some beautiful concept art of the new Transformers giving us a better look at what these fellas are made up of:



Meanwhile, Transformer Movie Chronicles breaks down the bits of bots that make up the Devastator :
Right Leg: Dump Truck
Left Arm: Crane
Left Leg: Bulldozer
Torso: Excavator (this is the Terex Rh400 we've seen in the trailer)
Next up is The Fallen, which is pretty close to the toy that was revealed earlier this week. Even though this creature is supposed to be an ancient evil, I still think both Megatron and The Devastator could take him... But we'll have to wait to see who qualifies pure robot evil.