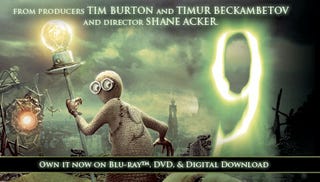 1) Cuteness. 2) You can't get to MoMA. 3) Crispin Glover needs a royalty check. 4) 9 new friends on demand. 5) You are "budding techno and fantasy geeks [who] are likely to be intrigued and enthralled" (thanks, NYT).
6) It releases today on Blu-ray, DVD, and digital download, so you will be first to own it, therefore coolest. 7) To screen at next Stitch n' Bitch meeting. 8) Apocalypse Nine (sorry). 9) 9 is the new era of animated storytelling.
Visionary filmmakers Tim Burton and Timur Bekmambetov join forces to produce wunderkind director Shane Acker's 9, a distinctively original and thrilling tale of nine mad-scientist-created stitch-punks who band together to fight beasts like the Seamstress in order to save civilization.
When 9 (The Lord of the Rings' Elijah Wood) first comes to life, he finds himself in a post-apocalyptic world. All humans are gone, and it is only by chance that he discovers a small community of others like him taking refuge from fearsome machines that roam the earth intent on their extinction. Despite being the neophyte of the group, 9 convinces the others that hiding will do them no good. They must take the offensive if they are to survive, and they must discover why the machines want to destroy them in the first place. As they'll soon come to learn, the very future of civilization may depend on them.
9 stars the voice talents of Elijah Wood, John C. Reilly, Jennifer Connelly, Martin Landau, Christopher Plummer and Crispin Glover and features the music of Danny Elfman.
9 is out today on Blu-ray, DVD and digital download. Click here for more info!