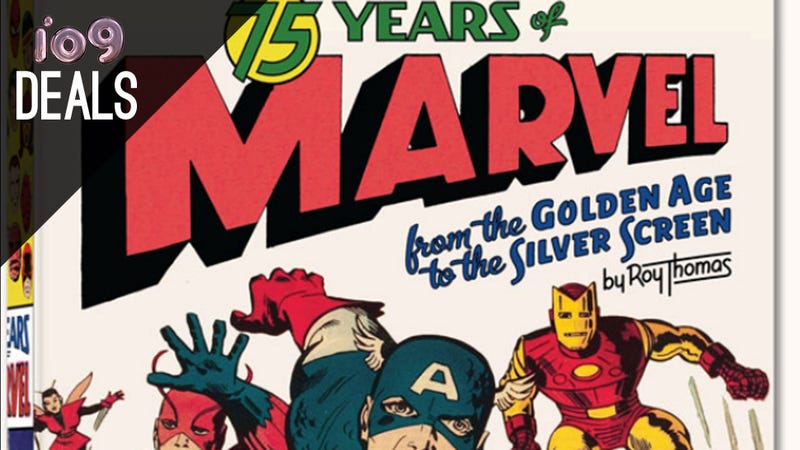 75 years. 700 pages. 2000 images. Hardcover. $85 or more off MSRP. [ 75 Years of Marvel: From the Golden Age to the Silver Screen]
---
Commerce Team consensus: this is the best limited edition packaging we've ever seen. [Under the Dome Season 1 CE]
---
Snowpiercer is the summer's most exciting ride , lock up your copy of the blu-ray for just $15 with a preorder today. [Snowpiercer]
---
Get these deals and more, and earlier on Deals.Kinja. Connect with us on Twitter and Facebook to never miss a deal, check out our Gaming and Movie/TV release calendars to plan your upcoming free time, and join us for Kinja Co-Op to vote on the best products. Got a deal we missed? Post it in the comments with a link and we'll share right to our Deals homepage.
---
Not only is the Destiny Limited Edition in stock today, but you'll snag a $5 Amazon Games Credit with your purchase. [Destiny]
How are you liking Destiny? Tell us in the comments.
---
The Witcher III: Wild Hunt Collector's Edition is back in stock at Gamestop.
The regular version of the game is also available for pre-order.
---
Monoprice's unassuming 8320 earbuds have a huge cult following, and a Lifehacker Hive Five recommendation. They're pretty much always under $10, but today you can get a pair for just $6. Stock up! [Monoprice Enhanced Bass Hi-Fi Noise Isolating Earphones, $6]
---
This external weighs in at $32 per terabyte. What a world we live in. [ Seagate Expansion 5TB USB 3.0 Desktop External Hard Drive, $160 with promo code EMCPAHH222]
---
If you've ever run out of space on your Android device, or wanted to transfer large files between two phones, these clever flash drives might be just what you're looking for.
Best Buy is discounting 16, 32, and 64GB flavors of the popular SanDisk Ultra Dual, today only. The prices start at just $12, and are a match for the lowest we've ever seen, so this is a no-brainer purchase if you've ever filled up your phone with vacation photos, or wanted to transfer a movie between your phone and a tablet.
The deal is set to last all day, but I'd be surprised if they don't sell out early, so get yours soon. [ Best Buy]
Update: Best Buy is sold out of the 64GB model, but Amazon has it for $35 if you're interested.
---
Need a TV upgrade? This 55" Smart TV from LG has never gone for less than $900 on Amazon until now. [ LG Electronics 55LB6300 55-Inch 1080p 120Hz Smart LED TV, $799]
---
Staples is coming strong with the home theater deals today:
Amazon Fire TV, Streaming HD Network Media Player ($74) | Staples | Promo code 86128
Google Chromecast HDMI Streaming Media Player ($30) | Staples
---
This Logitech combo gets you a K350 wireless keyboard and M510 wireless mouse for just $40. The combo price usually runs $55-$70, and the two products separately would set you back about $75. [Logitech MK550 Cordless Desktop Wave, $50]
---
This titanium-coated steel money clip holds five credit cards, cash, and conceals a 3.7" blade as well. Just be sure to leave it at home before going to the airport. [Gerber Titanium Nitride GDC Money Clip Knife, $19]
---
Cleaning supplies don't make for the most exciting deals, but this is a fantastic price on a household essential. [ Lysol Disinfecting Wipes Value Pack, Lemon and Lime Blossom, 240 Count, $8 after 15% coupon]
---
Media
---
Movies & TV
Books & Magazines
Apps
---
Gaming
---
PC
PlayStation 3
Toys
---
Tech
---
Storage
Power
Headphones
Home Theater
---
This post is brought to you by the Commerce Team. We work together with you to find the best products and the best deals on them. We operate independently of Editorial, and if you take advantage of an item we cover, we may get a small share of the sale. We want your feedback.